Caribbean Catamaran Vacations
Why Caribbean Catamaran Vacations? Catamarans have stability WITHOUT the tilt or heeling of traditional sailboats
Mono Hull Sailboats
Catamaran Sailboats
Avg Width (beam)
12 ft
22 ft up to 56 ft
Tilting during sailing
Even a light breeze can heel a sailboat
Very Stable in all conditions
Space to roam / relax
Limited with odd or uneven walking conditions.
Mono-Hulls are typically designed for cruising NOT leisure.
Catamarans are spacious with an abundance of easy to get
around outdoor space with luxurious interior comfort.
Caribbean Catamaran Vacations Have a New Modern Twist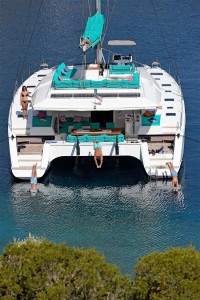 Here is a small break down of the history of modern catamaran vacations charter phenomenon and how the charter industry has been revolutionized by this wonderful vessel we call the modern luxury catamaran.
In late 1990, there was only one catamaran based in the British Virgin Islands, the Splendidum 43 and this wonderful catamaran belonged to me and my wife, Gaile. You can read all about our crossing the Atlantic Ocean by clicking Here. 
There were two other "day charter" catamarans that were linked with hotels. These were the years when the successful Irwin mono-hulls designed by Ted Irwin and Barry Rice dominated the charter industry. At a guess there were some 80-100 Mono hulls chartering in the Virgin Islands and most were based in the USVI under the Flagship banner.
In early 1993 the second modern catamaran arrived to commence chartering; her name was "Take Two"  and then 1994 saw the next few and so the popularity grew. Today, I can easily count 100 fully crewed catamarans operating private yacht charters in the BVI and all 100 or so are all-inclusive catamaran charter boats.
Why did this change occur?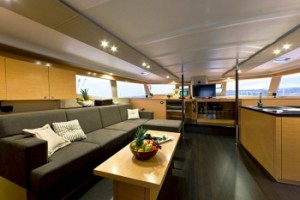 It was the first time in history where a sailing yacht appealed to the woman/wives in our lives. No more was a private sailing yacht a camping trip and for the first time the new modern catamaran offered the general public hotel COMFORT, hotel STABILITY and hotel SPACE.
On a catamaran sailboat charter everybody is on vacation: no cooking, cleaning, grocery shopping and definitely no laundry. On your luxury vacation do what you want, when you want and be pampered and waited on by your crew and personal chef.
1) Yachts (mono hulls) are 14-16 feet wide while luxury catamarans start at 22 feet wide and one, Douce France is even 56 feet wide!
2) Yachts heel over at 45 degrees when sailing!  While catamarans remain almost 100% upright while sailing and anchored.
3) Mono hull yachts have cabins which are normally squeezed into her narrow beam making all cabins different sizes, some cabins have bunk beds to save valuable space.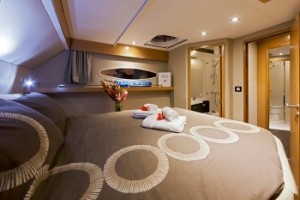 Not so with a spacious catamarans, all cabins are equal, all cabins have queen sized beds, all cabins have their own private toilets, showers and vanities, hot and cold running water and are fully air conditioned 24/7. These days some of the larger luxury catamarans have king sized beds and suites.
A huge salon/dining area with plenty of head room for tall people and a modern kitchen with all the bells and whistles where your private chef will prepare all your meals for your party. These huge salons, kitchens and sleeping accommodation cannot be found on any yacht at one and a half the length of a catamaran.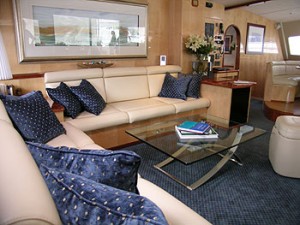 Some catamarans boast 4 king sized beds in their cabins and most catamarans are very luxurious, but in 2006 along came the next big step up in our industry, the gorgeous Zingara.
Zingara is a mile stone in our industry in this modern time, the first vessel to boast 5 walk round beds in all her cabins. A king sized cabin that feels and looks better than found in most Hilton Hotels.
Such high end luxury, that catamarans now rival the top 120-140 feet luxury power yachts of the world, the rate for a top private power yacht can be $90,000 per week and higher. While catamaran charters start as low as $16,000 per week.
No one knows Caribbean Catamaran Vacations better than us.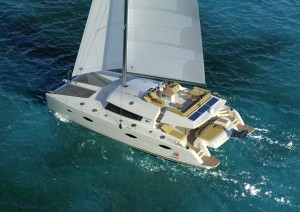 Access to 128 private cays and over 400 beaches. When planning your Caribbean catamaran vacations we will work closely with the captain to include sailing, shopping, diving, beach combing or just hanging out on the boats trampoline or walking the pristine beaches of some island deep in the Caribbean.
Choose your destination and we'll map it out with the captain so your Caribbean Catamaran Vacation is all that it can be.
Bitter End Yacht Club The worlds 3rd largest barrier reef
Tortola's Westend Wow just perfect for the ladies shopping.
Peter island BVI On the beach chalets, a wonderful on the beach special restaurant set under the coconut palms on the white beach.
Marina Cay Try not to miss Marina Cay at all costs this is a must do anchorage.
Spanish Town is the value for the passionate vacationer.
and so many more to map out and discover for your self.
Contact us and after listening to your desires, we will help you find the perfect captain and crew for a wonderful Caribbean Catamaran Vacation experience.

Caribbean Catamaran Vacations
Search All Catamarans
Kindly Note: we may not recommend all catamarans that will be returned in this database search. Please contact us for further information and our recommendations.