Below is an example of an itinerary for what you might expect on a 7-day luxurious, adventurous and romantic Caribbean Catamaran Vacation from Barrington-Hall. 
We always take the time for planning to put together an itinerary that should work well for a large charter group even with a variety of different likes, which will be pleasing to everyone.
These are places that
we frequent
 ourselves and know that our guests have always enjoyed visiting them, too. It is a mixture of anchoring out in bays, coves and docking to allow guests to have some freedom. Two of the anchorage's have been chosen especially because they will accommodate rafting the yachts together for those interested in taking a tandem catamaran charter with friends and family.
Day One: Arrival in Tortola at Village Cay Marina, Road Town, Tortola (British Virgin Islands)
After lunch you will depart for a two hour cruise around Beef Island or Great Camanoe and then sail over to anchor for the night at Marina Cay (near the Last Resort). This is normally a very comfortable spot and we can raft together giving you the chance to to begin your adventure by celebrating your first day in the Caribbean.
You can to immerse yourself in your luxurious vacation with tropical enjoying drinks, wines, snacks, diving, snorkeling, fishing, water skiing and so much more!
Day Two: Sandy Cay & Jost Van Dyke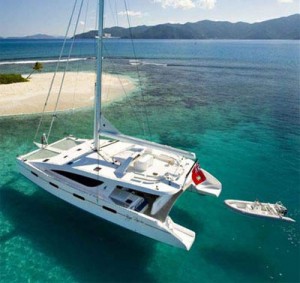 After breakfast you'll cruise to the deserted Island of Sandy Cay for lunch and enjoy one of the best beaches in the area followed by a short cruise to Jost Van Dyke for the evening. Jost is home to Foxy's Bar and a must on any charter for the real feel of the Virgin Islands!
If you're lucky Foxy himself might be out singing and playing his guitar for you!
Caribbean Catamaran Vacations Are Heavenly!
Day Three: Peter Island
You can get an early start today (after breakfast of course) and cruise to fabulous Peter Island! How 'bout lunch on the beach? The island bar here is fabulous, and the beach private and amazing! Somebody say SPA? Peter Island boasts the best spas in the Islands.
Days Four and Five: The Baths and The Bitter End Yacht Club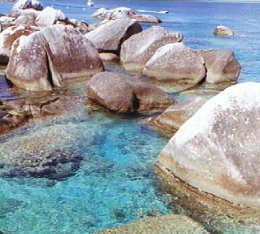 Virgin Gorda ready to Dive the Rhone shipwreck? It's right on the way! Need a BATH? You'll be able to go explore the world famous Bath's on Virgin Gorda!
Afterwards you'll have a beautiful cruise to The Bitter End Yacht Club where it's Oh Sooo Sweet! Dinner off the yacht at Birus Creek, dancing and all the amenities of a world class Island Yacht Club await you! Want to rent your own sailboat? Ready to race? The crew will lead to way!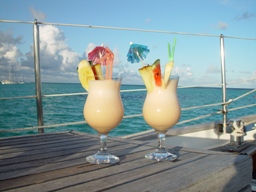 Day Six: Soper's Hole West End, Tortola & Brewer's Bay!

Enjoy a lovely day cruising and exploring Brewer's Bay and the West End! Pusser's Rum flows here. How about trying a delicious (and potent) Pain Killer! So much to see, shop and enjoy.
Day Seven: Norman's Cay - A Pirate's paradise!
You'll anchor here for a Caribbean Pirate Night with an Island BBQ and a fireworks display! Norman's is a great place to raft up and also do excellent snorkeling! What a great last night! We encourage you to bring your best Pirate outfits, everyone can join in the festivities!
And now you have it!  A perfect plan for a perfect Caribbean catamaran vacation.
---
Below is a list of a few of our favorite places that you may want to discover on your own. Remember, this is your vacation and you set the itinerary including your destinations!
One of the worlds top companies owns Peter Island and they have created a wonderful resort for their staff and VIP clients, it is also open to the public. Gorgeous on-the-beach chalets, a wonderful beach restaurant set under the coconut palms on the white beach. A marina is open to all private craft where guests are encouraged to use the facilities.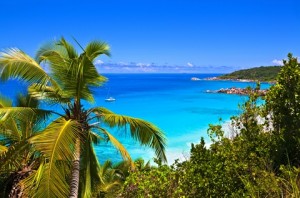 Ladies can have manicures, massage, pedicures and other relaxing treatments as it is a full SPA service. One or the worlds most gorgeous bays is Deadman's Bay, plus you can visit White Bay, Little harbor or Great Bay.
This island is a pearl in the oyster of the Caribbean, top service, top cuisine, top accommodations and top facilities. Perfect for snorkeling, scuba diving sun bathing, relaxing, and enjoying breezy vacation days in paradise.
BITTER END YACHT CLUB
Possibly one of the worlds most magnificent destinations for everyone. The worlds 3rd largest barrier reef commences from here and stretches to Anagada and we highly recommend that you snorkel on this barrier reef. There are also 4 sixteenth century cannons on the seabed in just 10 feet of crystal clear water.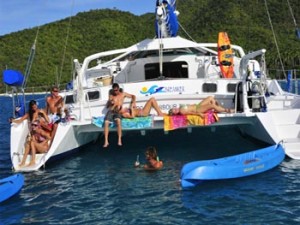 The Bitter End Yacht Club has facilities for everyone, chalets on the beach, on the hill side with boardroom atmosphere for the businessman. Exercise park outside, swimming pool for everyone, shopping for the family and 2 different restaurants. All water sports are provided for the yachtsmen, scuba diving, jet skiing, daily charters for fishing and tours to the Baths and Anagada.
MARINA CAY
My all time favorite island in paradise. Marina Cay has everything, history, white beach, coconut palms, a great beach bar, shopping and calm crystal clear water. A great spot for water skiing, and snorkeling. Try not to miss Marina Cay at all costs this is a must do anchorage.
WEST END TORTOLA
Better' known as 'Sopers Hole Marina'. Wow, just perfect for the ladies and the gentleman, shopping under the coconut palms at quaint pastel colored shops where people of the world congregate.
This is a fantastic small shopping center for all those last minutes treats for yourself and friends with two super markets, a large bar area and scuba shops can be found here, too.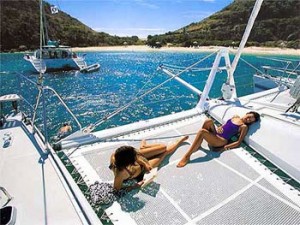 In the 1700 Pirates used Sopers Hole when they were relaxing and cleaning the underside of their notorious ships, they were assured of 300 degrees of land protection plus the lookout at the top of these hills was ideal for scanning for passing ships.
SPANISH TOWN
Spanish town is set in the middle of Virgin Gorda a perfect stop for the famous Baths and to branch out further from there. Spanish Town has a small shopping center with restaurant as well as marine services for yachts of the world. Spanish Town is also where privately owned yachts are hauled out for repairs and cleaning. But more importantly, it is the value provided for the passionate vacationer.
A Virgin Island catamaran vacation awaits you.