Caribbean Catamaran Vacations
Your frequently asked questions regarding Catamaran Sailing Vacations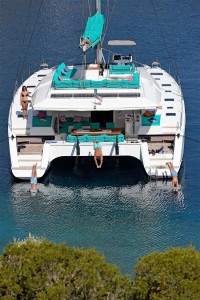 I would like to do a catamaran sailing vacation, my friends say it is wonderful, but I get motion sickness in our car.
Catamarans, because of their very wide berths, do not heel (roll) when the wind blows, they have stability which no other craft has. In 20 years I have never had anyone of our guests say they felt bad due to sea sickness. We take all the necessary precautions and we plan meticulously with the captain if there is even a remote concern.
As I said, in 20 years we have not had one issue of motion sickness affecting a great vacation, many have been concerned but none were affected negatively. And all were aboard a stable and very spacious luxury catamaran. As your yacht charter specialist, it is a job that I take very seriously.  I am dedicated to making sure all things concerning your sailing vacation are taken care including when I communicate your tolerance / excitement level with the captain. We typically keep guests away from "large open water" crossings, so we look for  locations with calm and quiet lagoons with easy sailing from one lush island to the next.
We may also want you to stay closer to shore where the swells are not so dramatic. Your captain knows the spots and will try to keep things as calm as he can. All the captains and crew are sensitive to guests that may have motion issues and will take all necessary precautions to make your vacation a happy and healthy one. In addition there are spots such as the British Virgin Islands, where there are 32 islands set in a rough circle and it is this circle which protects all of us from the "ocean swell".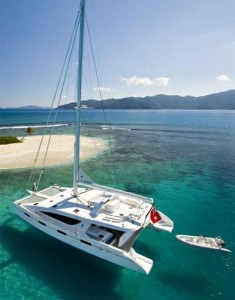 These are among the calmest boating conditions known. Look in the background of all the pictures you see of the Virgin Islands and the water has no swell, this means there is no ocean swell present.
 Choosing the correct location is paramount.
 Selection of the right captain and crew is extremely important
 Working with your catamaran's Itinerary which is customized to you, is again paramount. I suggest you bring your wristbands, your ear pads and your Dramamine, but do not use them, unless you feel you absolutely need to. I pre-plan with your captain to make your first sail very short and on dead calm water then we plan to stop and play for the rest of the day. Happy hour and dinner follow in a dead calm anchorage. The next morning you have taken no pills and no wristbands and you are more eager to get sailing than anyone else in your part
Three years ago my husband took our family on a "keel sailboat" (mono hull and not a Catamaran) sailing vacation, he loved it, the kids loved it, but there was no space in the cabins, no space when you came inside and little space on deck. Mmm, now he wants to do a catamaran charter?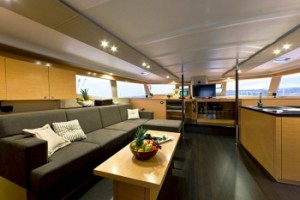 Today a private catamaran sailing vacation is not a camping trip, those days are gone. A catamaran vacation is a floating hotel with all the perks you can expect at a top hotel. A modern luxury catamaran has double the space inside and on deck than any yacht one and a half times her length size.
The modern luxury catamaran features 4 queen sized beds, each cabin has its own private toilet, private shower, and private wash-hand basin, hot and cold running water 24/7 and your catamaran is fully air conditioned.
The salon can be the width of the catamaran - 20 feet by 14 feet deep with 7 feet headroom, with controlled a/c.
Many prefer the kitchen/galley to be on the same level as the salon so that your chef is included in all the action during your charter. Most meals are enjoyed in the cockpit which is an outside area to enjoy under the stars by candlelight. Your cockpit normally seats 8 to 10 guests outside.
On deck you have heaps of clutter free space to walk around plus a 15-x 12 feet play / sunning area (trampoline) so catamarans do have a ladder leading down from the trampoline to the water or the beach. Space is what a catamaran has definitely got and lots of it. Douce France is 56 feet wide and 139 feet long which is larger than most homes. The 6 cabins and beds are huge.
I am used to having the good things in life, so comfort to me is paramount.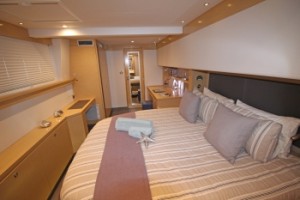 Great, then you will love the worlds most gorgeous high-end luxury catamaran Zingara. No other catamaran has 5 cabins with walk-around beds, this is the closest you will get to a luxury hotel or resort room 2 king sized beds and 3 queens, flat screen TV sets in each cabin, a/c, private toilets, private tubs, private showers.
The interior of the salon is finished with Ostrich skin, wow this is far more luxurious than ivory leather and it shows immediately.
Every water toy imaginable, It took one year to select the correct captain and the correct chef for this position, so expect charming folk to be around and expect the world's most exotic cuisine at each sitting. Zingara is 76 feet and far more luxurious than Douce France at 139 feet.
In the past 20 years I have not inspected a more luxurious catamaran than Zingara. If you want the best in the industry then Catamaran Zingara is the only one out there leading the way.
Andrew as this is our first time how do I know I can enjoy a full week on a boat? Is there enough for my children to do?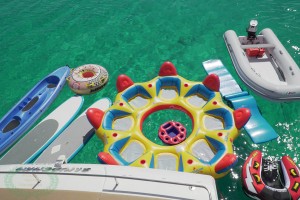 Wonderful question, I love first time catamaran charter guests because I know what is in store for you. Once you do a private yacht vacation you will be spoiled forever, vacations in your future will be very difficult to select.
As a past captain for 5 years offering Caribbean catamaran vacations on my own boat I found that every party who did 5 nights would beat themselves for not doing 7 days on board. I have never once come across anyone who was happy to go home, everything you see is brand new to you, uninhabited islands, pastel colored shops with gingerbread touches under coconut palms and seem so unique in their tropical settings. Resorts lined with coconut palms on powder white beaches and gin clear water are perfect places to explore as well.
Children and adults are three times more active on a private yacht vacation than they are at home, at night after dinner, so everyone attacks their bed for the night. There are places to dance the night away, but children go to bed they do not want to watch TV, their little bodies are too tired to keep their eyes open.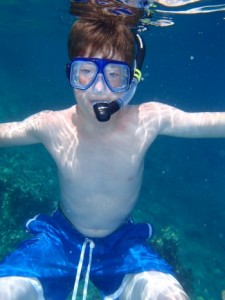 Exploring uninhabited islands, seeing real pirate caves, snorkeling, scuba diving, seeing coral reefs with rainbow colored fish, taking pictures from the top of a mountain looking down at your yacht, jumping off a 20 feet high rock into the water, picking up sea shells on the white footprint free beach, enjoying the hot sun, water skiing, wake boarding, having a banana ride and breathing the fresh air of the Caribbean all lead to bed early everyday.
 Andrew, do all the crews like children?
Some crew do not want to handle children under the age of 10, others do not want children on board at all. Keep away from all of these which have children problems this is a sign of getting tired in our industry. The captains who encourage children of all ages are normally the captains who are magnificent to be with adults as well. This is where your yacht charter broker shines for you, knowing each crew member of the crew is mandatory.
In the past 20 years I have not missed on November annual charter boat show in Tortola, this is how important this question is, it also brings me to inspecting each individual catamaran, but it is the crew who are more important, because you are going to spend one week with them. With a good agent you will never go wrong and we will make sure the crew genuinely love children.
Andrew, do catamarans have normal toilets and separate shower?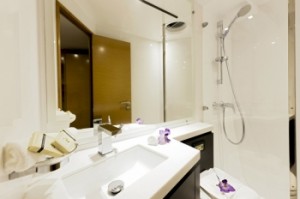 Again a great question, yes many catamarans have electric toilets, this means you press a button and the toilet flushes. Normal marine toilets need to be manually pumped 15 times to clear away waste.
This is not a big problem to do but we all need to learn the first time. Your captain will show you the first day and call him as many times as you need to so you are comfortable with using a marine manual toilet, naturally the electric toilets are much easier to use.
Check with your catamaran details to see whether you have to share your toilet, the cheaper priced catamaran charters do not have one toilet for one cabin. Most showers have separate cubicles, but some have a hand held shower which is in the same compartment as the toilet so the toilet gets wet each time you use the shower. Not to worry about this as the crew normally dry off the toilet when they clean your cabin.
Andrew, are there scuba lessons available?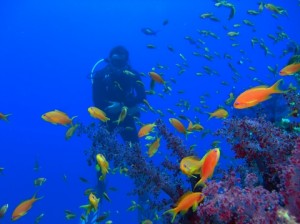 Yes, but the time taken to teach you to scuba dive impacts on your vacation. I suggest that you are fully qualified before you come on vacation. Some folks have their last 4 open water dives done when they are on vacation well this does not harm your vacation time at all.
If you have never scuba dived before and you want to scuba during your vacation then your captain will call a land based company to come to your catamaran and take you to do a "resort course" which is a teaching course, then those same instructors will take you on a 2 tank dive. So with no previous experience you can an enjoy a crammed scuba course with professionals.
To bring down price can we have a captain only or if there is a first mate to ask for captain only?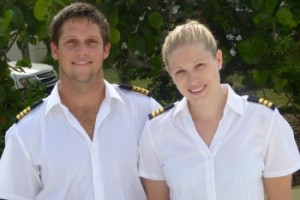 Yes there are some yachts that do have only a captain, however, all the captain and crew teams we work with have full time captain and crew positions, if the chef was not used then where would she go for the week you are on board the catamaran.
I do not compromise your vacation by accepting a price $500 lower because an owner is offering a special to encourage business, invariable these are the folk who do not meet the standard we expect our clients to enjoy on this private catamaran vacation.
Asking for a captain only puts you in the bare boat industry which we are not part of. My aim is for all the ladies in your party to put their feet up relax and have a vacation like everyone else. You will be served on hand and foot, no preparing meals, no planning what to do for dinner, no washing dishes, no putting dishes away after each meal, with a fully crewed catamaran charter the ladies are the queen of the house and are treated as such.
From time to time I do hear of genuine savings, you will automatically enjoy the saving when this happens. The best way to save a lot of dollars is to book one year ahead of time I normally get this years rates for next year savings between $300-$1,000 then booking through Judy who provides wholesale airline rates saves $100-$130 per person and lastly you pay in 3 increments and not 2, making your payments lower. Kindly know you will enjoy the lowest possible rate for your charter without me compromising your magnificent adventure.
Andrew why should I come to your company and not work with another company?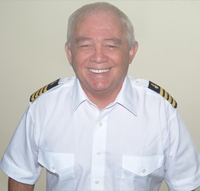 Trust is everything, I do business the good old fashioned way, where my client is number one. Added to this I have vast knowledge of the charter catamarans worldwide an unequaled knowledge of the locations you are going to be, all these points mean you will have better knowledge to make smarter decisions.
This knowledge comes from sailing my own private catamaran which my wife and 2 girls chartered for 5 years. I know every little nook and cranny in the Caribbean chain and the Virgin Islands. Comfortably stated is the fact that no other broker working with an independent company in our industry comes close to actually chartering in these islands for half as long.
Our banking has remained the same for the past 12 years our address has changed once in 12 years. Our staff of 6 has had 2 changes in the past 4 years. Since 1995 guests can reach me 24/7. My personal telephone number 954-720-0475 is given to guests family and friends in case of emergencies, over the years I have had many calls at 1am, 3am, and 4am for one reason or another.
I know exactly how to get hold of your yacht in an emergency, captains normally switch off their telephones at night so not to wake sleeping guests, at 6.30am it is turned on again. Excellence is what I strive to give all our guests.
In a nut shell: Crew knowledge.  Vessel knowledge.  Location knowledge.
You get the boss 24/7 as no answering machines are allowed here. There simply is no other company worldwide to compare the service you enjoy with me. Excellence is what I strive to give all our guests.
Do we need to bring towels with us?
No, you do not need to bring any towels, towels are given to each person in your party.
Fully crewed, all-inclusive Caribbean Catamaran Vacations. Call (800) 478-2029 today for free yacht charter planning assistance.