What Women Say After Their Caribbean Catamaran Vacations
Catamarans for Women
"We had our own captain and a private chef on board our Caribbean catamaran vacations!
This meant I did not have to cook, do dishes, plan meals and for the first time in years I could put my feet up, relax, have fun and when I wanted to I just did nothing. Yippee!"
The abundance of space in our cabin was magnificent, I had no idea there was so much space inside a catamaran's cabin and all 8 of us had exactly the same sized cabins so we all felt equally pampered, spoiled, which we were.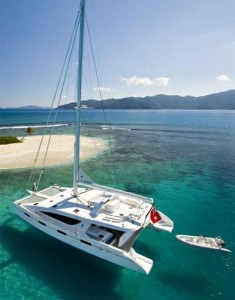 I was a little apprehensive about doing a sea vacation but the children wanted to, so just in case I took Dramamine, ear pads and wrist bands with me. As I walked on board our friendly captain handed me a tropical drink and that was it- never again did motion sickness enter my mind.
Catamarans are far too stable to sway and roll like a mono-hull sail boat does and so during the entire vacation it was smooth sailing.  I could also see islands close by us all the time which made us feel even more comfortable on the water.  I am a catamaran junkie from here forward.
The typical daily itinerary was perfect for me: sailing one hour in the morning to reach our next island destination and then one hour after lunch and we were at our next island paradise playground. There simply was no time to have anything but fun and happy hour was lasting all day!
I had my eye on the children but they were having so much fun. Plus, the captain and crew were around at all times, so we could really relax and have more fun.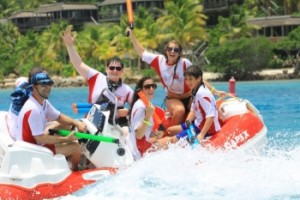 There were hair dryers in each cabin so we did not look like witches all week long.  All cabins were fully air conditioned with their own private electric toilets, showers and wash basins, very cool.
My children thanked me 100 times during the catamaran charter for doing this one. Yes, I am already being pestered by the kids to book for a June vacation next year....we opened a can of good worms!
When I think back on my private catamaran vacation I feel the major point was one which I hadn't considered at first. The level of service and attention to detail and I was able to work with the president of Barrington-Hall Yacht Corporation and so I never dealt with his support staff.
I never had to leave a message and in all the time we worked together, every time I called Andrew was available and I was immediately speaking to the owner. I even called at 9 pm one Saturday evening just before our trip to ask about motion sickness and who answered the telephone? Andrew! I was so impressed. It was a wonderful experience from start to finish.
No one knows Caribbean Catamaran Vacations better than Barrington Hall Yacht Charters.. And specialized in:
128 private cays and well over 400 beaches!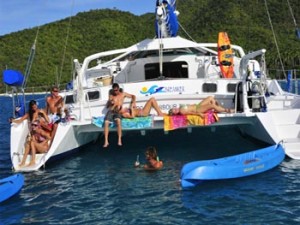 When planning your Caribbean catamaran vacation we will work closely with you and the captain to make sure that your vacation includes everything you want to see and do.
Here are a few suggestions: snorkeling, shopping, scuba diving, beach combing, fishing, sunbathing, hanging out on the boats trampoline or walking the pristine beaches of a lush tropical island deep in the Caribbean.
Choose your destination and we'll map it out with the captain so your Caribbean catamaran vacation is all that it can be. Here's a few ideas for places to see during your trip.
Bitter End Yacht Club The worlds 3 rd largest barrier reef
Tortola's Westend Wow just perfect for the ladies shopping.
Peter island BVI On the beach chalets, a wonderful on the beach special restaurant set under the coconut palms on the white beach.
Marina Cay Try not to miss Marina Cay at all costs this is a must do anchorage.
Spanish Town is the value for the passionate vacationer.
and so many more to map out and discover for your self.
Contact us today and let's discuss your ideas, wants, wishes and desires to find you the perfect captain and crew for your wonderful all-inclusive Caribbean catamaran charter.
Caribbean Catamaran Vacations
Click here to see a list of all Caribbean catamarans.
Note: we may not recommend all yachts will be seen in this search. Please contact us for further information regarding the catamaran's age, condition, location, captain and crew.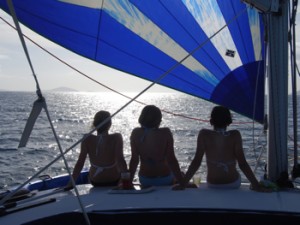 Women's thoughts are important to us.
We sincerely want to know what your impressions are. We just know your going to have a wonderful time on one of the catamarans we arrange for you.
In your decision process we would like to know what your concerns are as well as what may cause you some discomfort. Please let us know.