Virgin Island Catamarans
Valuable information for your Virgin Island Catamaran Vacation
This information will fill in many details before your Virgin Island catamaran yacht charter, during your catamaran vacation and after your dream Caribbean catamaran vacation.
We will gladly assist you in any way we can to make sure you have the best vacation experience from the day you leave home until the you get home. Kindly let us know how we can be of assistance.

Air Travel to the Virgin Islands:
For most of our guests who venture a Virgin Island or Caribbean catamaran vacation we have arranged wholesale airline rates. You and your party can fly in from anywhere in North America or Canada to your Caribbean vacation with low airline rates for all your British Virgin Island crewed catamaran yacht charters.
Call Judy at Caribbean Travel To get the maximum values kindly use Barrington-Hall's company account code number # 2200.
Judy Shapiro: Caribbean Travel
800-327-5540
305-444-7999
---
Hotels in the Virgin Islands: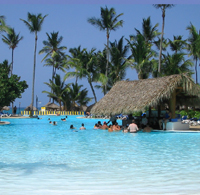 Where to stay when you arrive and depart Tortola, British Virgin Islands is the Caribbean catamaran capital of the world.
Village Cay Marina Hotel: 1-284-494-2771
Maria's by the sea Hotel: 1-284-494-2595
Sugar Mill Hotel: 1-284-495-4355
Tamarind Club: 1-284-495-2477
---
Private Villas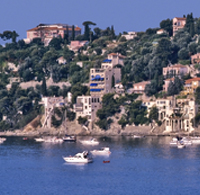 Summer Heights
It is impossible to imagine a view which supersedes this view. The owner is Barry Rice and he can be reached on 1-954-727-5216.
top
---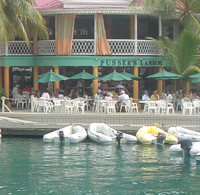 Restaurants: 
Fine eateries you may enjoy visiting when you are in the British Virgin Islands. Virgin Island yacht charters commence and end right here.
Brandy Wine Bay..............1-284-495-2301
Bitter End Yacht Club.......1-284-494-2745
Anegada Hotel...................1-284-495-8002
Wilfred's Anegada.............1-284-495-9466
top
---
What to Bring:
Tips & Hints on what to pack and expect on board your Caribbean Catamaran Vacation.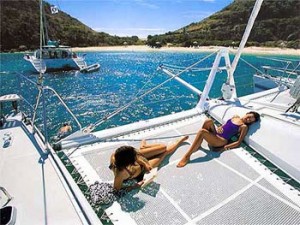 Remember, this is actually a luxury yacht charter, even though it is a Caribbean Catamaran Rental. Preferably, you will need to pack your belongings in soft duffel-type bags, as hard suitcases are normally difficult to stow away.
It is a good idea to carry valuables, toiletries and a change of clothes in your carry-on-bag in the event that one's luggage goes astray (thus, unnecessary worry and delay can be avoided).
It is entirely up to you as how formal you would like to be aboard; however, you will find that casual is more fun and easier to relax into and you need half the amount of clothing than you think
you do!
Clothes: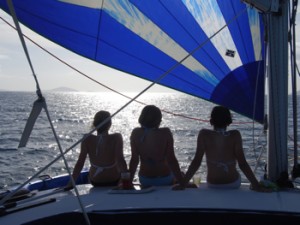 The weather should be mostly sunny and spent in bathing suits and covers. You may want to pack a light windbreaker, as the breeze over the water, in the evenings, can be cool after a day in the sun. You will go barefoot onboard and guests find that rubber soled shoes or 'reef-runners' are ideal as they are comfortable when going ashore and good for climbing on rocks and reefs. There are no guest laundry facilities onboard and probably not much time en-route.
Sports Equipment:
There are water toys and equipment such as snorkeling available to you directly off the yacht. If you have your own snorkeling gear, you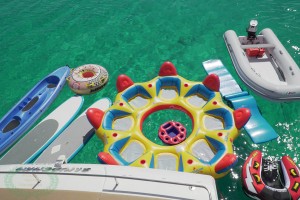 may rather want to bring that with you. For the SCUBA divers, make sure you bring your certification card, as diving will not be permitted without it. Diving can be arranged with a local dive company to rendezvous with the yacht. This will be for your expense and the captain will need to arrange this at least one day in advance. Some vessels carry SCUBA gear on board.
Sunscreens:
Sunscreens that are PABA-free are preferred. Oils are slippery, staining and intensify the strong sun. So, please, no oil-based sunscreen.
Medications:
Special Medications are not always available in the areas you will be visiting so take those that you need with you from home. Take a copy of any prescription medication you have in case of questions by customs officials. If you suffer from motion sickness, it is advisable to take your own medication and I would recommend patches or SEA BANDS.
Memories: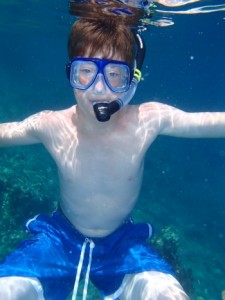 A camera is essential: but, remember to pack lots of film if not bringing a digital camera as, although film is available, it may not be there when you need it most. There are facilities to charge video and camera batteries onboard.
Money:
Traveler's Checks or cash are the accepted method of payment in most cases. Credit cards are not always accepted and personal checks are never accepted. It is advisable to have a number of smaller denomination traveler's checks (as some stores do not carry a lot of change).
Documentation:
Documents you will need include a passport for each member of your group as well as your Yacht Charter Agreement. Traveling with your yacht charter agreement is a good idea.
Meals: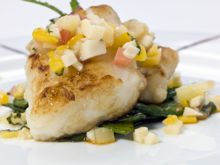 Your crew has a copy of most of your preferences and I know that they are well qualified and will certainly do a great job. If you decide to dine ashore at any time, please ensure that you let them know in good time as meals are prepared for well in advance.
Cost not included:
Souvenirs and gifts bought ashore, taxis, island tours, dinners and drinks ashore, telephone, fax and email and special bar requests.
A crew gratuity is left up to your discretion and is usually in the 10%-15% of the charter fee depending on the quality of service you have received. It is payable in cash or traveler's checks only. Your crew will be working constantly to ensure that you have a great time!
Emergency contact:
Please feel free to give my number as your emergency contact numbers: 1-800-478-2029 or 954-720-0475 as we do have ways  of getting in contact with the yacht in most instances. Office calls are forwarded to our personal cell phone after hours and during weekends.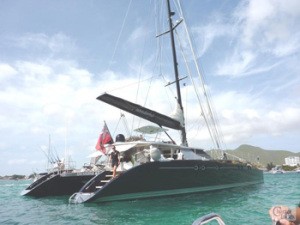 We hope that the above information aids you in your packing and in generally knowing what to expect.
We know that you are going to have a wonderful time and look forward to hearing all about it when you return.
Take care and Bon Voyage! Have loads of fun!
Here are a few ideas of where you might like to visit in your stops along as you island hop:
Shopping:
The Ark: exquisite island hand crafted Items
1-284-494-9151
Blue Banana: a mix of tropical clothing gifts accessories and home decor.
1-284-495-6633.
West-End: Marina Cay and Leverick Bay all have the famous Pussers clothing line with gifts and handcrafts.
1-284-494-2174
Samarkand: Caribbean Jewelry:
1-284-494-6415
Awarak Boutique and Gift Shop:
1-284-494-5240
Sunny Caribbee: arts, crafts, clothing, fragrances, flavors
1-284-494-2178
Caribbean Coral: hand crafted coral seen in pinks, yellow and soft blue:
1-284-494-3853
Columbian Emeralds:
1-284-494-7477
top
---
Helicopter Rides
Island Helicopter:
1-284-499-2663
---
Taxi / Tours
Styles Tours: 1-284-494-3341
Scato's Bus Service: 1-284-494-2365
Claudes Safari Service: 1-284-495-9286
Taxi Tours: 1-284-494-3942
Many Taxi tours can be taken on Tortola and Virgin Gorda.
Caribbean vacation yacht charters often start right here.
Tortola see the Run Distillery:
Commences in Spanish Town Gorda and ends in either Gun Creek or
Leverick Bay inVirgin Gorda.
1-284-494-6456
top
---
Scuba Diving:
Blue Water Divers:
1-284-494-2847
Caribbean yacht charters for everyone, just add scuba diving.
top
---
Ferry Services:
There is a private ferry service from St Thomas United States Virgin Islands. A commencement price for this ferry service is $280, which simply means they have geared themselves for parties of six guests and larger.
Caribbean yacht charter service for our clients:
Dohms Water Taxi Service:
1-340-775-6501
Commercial Ferry Services:

Native Son: St Thomas USVI to West End Tortola British Virgin Islands:
1-284-495-4617
Smith's Ferry Services:
1-284-495-449
Speedy's:
1-284-495-5240
Road Town Ferry Service:
1-284-494-2323
---
Car Rentals:
Hertz Rent a Car
1-284-494-4405
National Car Rental:
1-284-494-4085
Caribbean Catamaran Vacations in the Virgin Islands are the ultimate yacht charter experience.
top
---
TELEPHONE SERVICE when in the islands.
Cable and Wireless:
1-284-494-4444
Call this Caribbean carrier well before your private yacht charter. Your mobile phone can work here, make sure you have called in advance to make arrangements.
Yachting in the BVIs - heavenly!