Caribbean Catamaran Charters
Guest comments from our Caribbean catamaran charters
Crewed Catamaran Zingara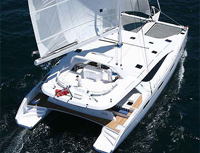 We had 10 in our party and everyone was comfortable. The master suite was great.  The Captain and crew were very friendly. The perfect balance of interaction and giving us our space. They pampered us. We wanted for nothing.
The Captain and crew: recommended perfect stops, ran endless tries at skiing & knee boarding, etc. We felt very comfortable with their sailing skills. The meals were a highlight of the trip. Colleen is a wonderful chef! We sat for 3 meals a day and they were a joy!  ~ Mark P.
Click for more information on Zingara Catamaran Charters
---
Crewed Catamaran Tahuata
Captain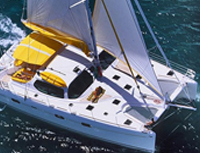 Loic maintains his boat in a meticulous fashion. Silvie is outgoing and very pleasant. Loic is a bit more fun and serious, but still a kind man who was attentive to all our needs.
We ate too much, and the meals were richer than we are accustomed to, but Silvie made efforts to accommodate our requests. We were hesitant to express our true desire to reduce the butter in the meals, since it would have been an insult to an excellent chef and her superb presentations. ~ Stefan M.
Click for more information on Tahuata Catamaran Charters
---
Crewed Catamaran Sea Chateau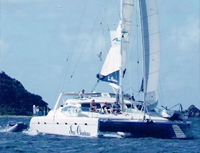 Laura & Greg were terrific hosts. We enjoyed getting to know them, and they made us feel right at home! They served our needs very well, attentive and cordial. Both were enthusiastic about boating and options for us – they had plenty of toys for us, and we especially enjoyed the snorkel flying!!
Great skills, felt safe and comfortable from a boating standpoint. Laura is a wonderful cook – I still don't know how she did it for all of us in that little kitchen, but all of our meals were perfect, she aimed to please us. ~ Denise B.
Click for more information on Sea Chateau Catamaran Charters
---
Crewed Catamaran Viking Dream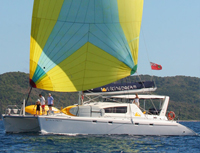 Andrew, I would like to thank you for recommending the Viking Dream. Mark and Sally provided first-class service. Everything they did was absolutely perfect.
I can understand they have won their award two years in a row. The food was probably the highlight of the trip. Sally is an amazing cook and provided a culinary feast every day.
The balance of activities was perfect. We never had a boring moment and plenty of time for rest and relaxation. The local knowledge and sailing expertise was great. Not only were Mark and Sally the utmost professionals, but outstanding people who we enjoyed every minute getting to know. This was/is a dream vacation. ~ Barrett J.
Click for more information on Viking Dream Catamaran Charters
---
Ginette & Paul made the trip! They were very pleasant and accommodating..
They are very knowledgeable about the boat and the areas we visited. Every meal was creative and delicious, like eating at a gourmet restaurant every day! We plan on coming back next year! They went out of their way to please us. ~ Kathy W.
Click for more information on Nutmeg Catamaran Charters
---
Crewed Catamaran Green Flash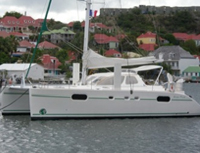 It was very comfortable, plenty of room and clean. Chad and Wendy were wonderful, very friendly and accommodating. We felt like family by the end of the week.
They couldn't have been nicer and made the whole trip relaxing for us all. They even took part in games with our children and made sure there was something enjoyable to do for each one of us. Their hospitality made for a very relaxing holiday for us.
Chad and Wendy were very professional when it came to their duties. We knew we were in good hands. Their expertise in sailing, handling the boats' equipment, knowledge of the islands and wonderful food preparation were evident. The meals were tasty and presented tastefully too. ~ Denise P.
Click for more information on Green Flash Catamaran Charters
---
Crewed Catamaran Pentesilea II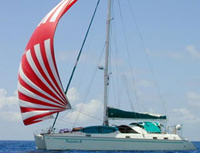 What a WONDERFUL experience the 6 of us had! Travis and Rose were great! All of us enjoyed ourselves so much. I cannot express the entire cruise with enough superlatives. Travis and Rose also spoke so highly of you and how well you represent them.
Please don't ever hesitate to recommend Travis, Rose and the Pentesilea II. Everything was beyond expectations and, to add to perfection, the weather (and the full moon) was exceptional. I want to thank you, too, for your professionalism and attention to detail throughout the entire process.
You and your firm are to be commended. I have already  recommended you and the Pentesilea II to several couples – hope they take advantage. ~ Joel L.
Click for more information on Pentesilea II Catamaran Charters
---
 Crewed Catamaran Genesis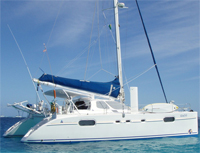 We loved the Captain and chef, who provided over the top service. They are absolute pros.
The amazing presentation of meals far exceeded expectations, really really
great!  ~  Tim R.
Click for more information on Genesis Catamaran Charters