Fly Bridge (Flybridge) Catamarans
Why the sudden influx of Fly Bridge or Flybridge Catamarans in the charter industry?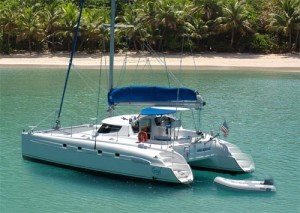 Today more than ever, guests are asking for that fly bridge catamaran for a few good reasons. In the past, catamarans had a shade cover over the cockpit; that developed into a solid fiberglass roof, and
catamaran Akasha
was the first catamaran to arrive with a flybridge over the cockpit.
Since 2013 every catamaran 58 feet and above is manufactured
with a fly bridge. Guests love to have happy hour on the roof, or on the fly bridge, it gives height to your position on the water.
The flybridge catamarans today adds sleek lines to the catamaran, giving more volume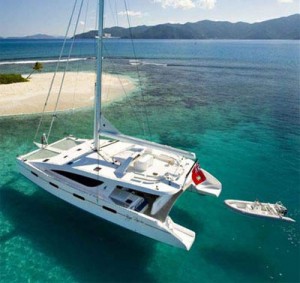 and daytime living area to guests.
Flybridge Catamaran Business
When owners and companies consider running a catamaran business, they have various decisions to make, such as...
Do I want to run a fully crewed catamaran?
Do I want to run bareboat catamarans (no crew)
Do I offer captain only catamarans?
Do I want to run a fly bridge catamarans business or other style catamarans?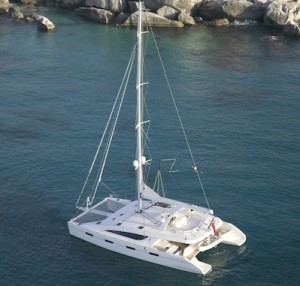 Let's say you decide on going with flybridge catamarans. Depending on your capital you will know how many you can purchase.
As mentioned above these catamarans usually start at about 58 feet therefore your customer base will be of the more affluent because depending on the age of the catamaran, size and a host of other items, their weekly charter rates would start at about $24,000 for 8 guests.
If you decide to form a Caribbean catamaran company in Guadeloupe, it would be a smart decision to purchase a Fountaine Pajot fly bridge catamaran. The reason being that the French government provides a huge tax reduction and incentive to purchase French vessels in French islands. The same applies to purchasing a sailing yacht mono-hull.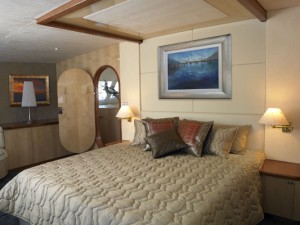 Power yachts can be based anywhere you select, so a Grenadines base may well be a niche market, depending on the size of your power boat.
FlyBridge Catamaran Broker
Very few charter brokers have a bead on these flybridge catamarans because they are generally expensive. Barrington-Hall loves these catamarans because their cabins have walk around beds in all cabins, making them one step ahead of the general modern luxury catamarans.
Some of these catamarans have a super large master cabin with an arch over the master bed, making that catamaran more romantic than the rest. Also many of our guests demand them and appreciate working with an informed broker. All these catamarans are what we term brand new, with some being built in this current year.
Click here to watch a video of a luxury Fly Bridge Catamaran called Flow
Want to charter a Flybridge Catamaran? Call Andrew at 800-478-2029 or 954-720-0475 or contact us via email