BVI Catamarans
Virgin Island Catamarans for Couples Vacations

.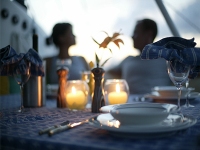 Why a BVI Catamaran?
Catamarans have great stability without the tilt of traditional sailboats.
Couples love this type of adventure on board their own private BVI Caribbean catamaran.
Everything is fully inclusive, the food, ships bar, happy hour tropical drinks and treats. Perhaps you would like to enjoy delightful candlelight dinners by under a moonlit sky.
Groups of couples can share the costs to bring the weekly rate as low as $1700 per person and you do not need any more money as this catamaran charter is all inclusive.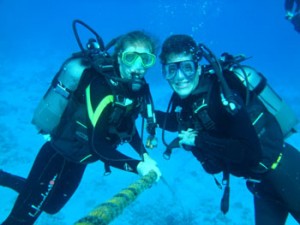 Snorkeling or scuba diving, relaxing with your partner under a coconut palm with your favorite book, or picking up shells on a remote beach during the afternoon.
Water sports can be done at anytime of the day, scuba diving, snorkeling, water skiing, banana towing, wake boarding, windsurfing or take out the two ocean kayaks and paddle to the nearest mangroves.
All water sports carried on board are included in the weekly price of the catamaran yacht charter vacation.
These fully crewed catamaran charters are all inclusive providing you everything to need to have a great sailing vacation in the British Virgin Islands.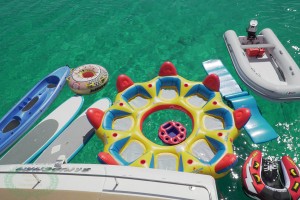 These include: a captain, private chef, all food, bar liquors, drinks, wines, sodas, snacks, taxes, insurance, anchorage fees, fuel, water sport equipment with floats, fishing tackle, skis, water boards and more!
There is one cliff which s 27 feet from the edge of the water where you can jump or dive into the deep blue water, well pluck up the courage to get to the top and when you look down you believe the this is 57 feet from the water, well take the plunge my son, the drop is awesome.
See the 4 sixteenth century cannons on the seabed in 10 feet of crystal clear water. See the 40 foot barrier reef push up from the sandy seabed to the surface of the water where visibility is 60 feet in all directions.
Keep your eyes open for real live seahorses, as they really are there.
In the evening you can allow your heart and or your lusts lead the way to unbridled romance or enjoy a pirate theme evening on board your BVI catamaran with your captain and crew during and after the evening meal.
Eat like a pirate, dress like a pirate with stick on those tattoos for the ladies, enjoy the wine and just have some good clean fun with your partner and your friends.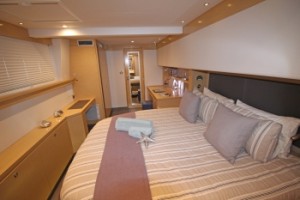 Remember these gorgeous BVI catamarans boast equal beds and cabins for each couple.
Queen sized beds, each cabin has it's own private toilet and shower with wash basin, with full A/C.
After a full day of sunning and frolicking you may enjoy heading for a restaurant on the beach where an island favorite song "Yellow Bird" is being played by a good Island steel band and the music mingles with palm fronds.
Join in, dance and have some island fun. Walk under the moonlight along a palm filled white beach, see your catamaran glow on the silver sheen of the moon on your calm blue lagoon.
Yes, love is in the air so enjoy the romance of yourselves.
No one knows BVI Catamaran Vacations better than us.
128 private cays and well over 400 beaches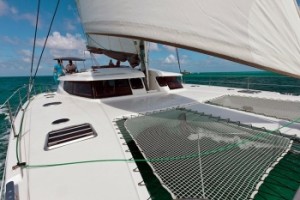 When planning your Caribbean catamaran vacation we will work closely with the captain for planning your custom itinerary to include sailing, shopping, diving, beach combing or just hanging out.
Lay back on the boats trampoline or walking the pristine beaches of some island deep in the Caribbean.
Choose your destination and we'll map it out with the captain so your Caribbean Catamaran Vacation is all that it can be.
Bitter End Yacht Club The worlds 3rd largest barrier reef
Tortola's Westend Wow! Just perfect for shopping.
Peter Island BVI On the beach chalets or a wonderful on the beach special restaurant set under the coconut palms with the ocean breaking its waves on a white sandy beach.
Marina Cay Try not to miss Marina Cay at all costs this is a must do anchorage.
Spanish Town is the value for the passionate vacationer.
and so many more to map out and discover for your self.
Caribbean Catamaran Vacations Are Unforgettable!
Kindly Note:  We may not recommend all the catamarans that will be seen in this database search. Please contact us for further information on each catamaran, crew and customer reviews.