Caribbean Catamaran Vacations
The MAGIC Of That Tropical Moon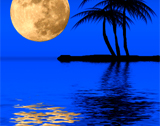 IMAGINE, its 10 pm, the moon is splashing a magical and lustrous glow across the calm surface of your lagoon illuminating the nearby islands and lighting up the sandy bottom.
You notice the moonlight is making it possible for you to see and actually count each grain of sand which appears to be just under the surface. Then you realize, the sand is actually 16 feet below.
The two of you are gazing at the seabed, enjoying the moonlit night together. Now IMAGINE this vacation were on your wedding night... or a night of renewed vows….
Andrew and his wife Gaile sailed charters on their own catamaran for 5 years in the Caribbean.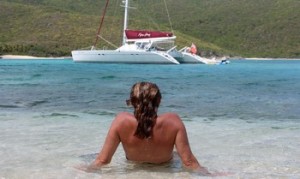 In those years they discovered the islands' every nook and cranny, the most beautiful beaches and anchorages in the Virgin Islands and we'd like to share those experiences with you.
Regardless of what is on your mind, what questions or ideas you have we want you to know that there is NEVER any obligation even if you send us the basic inquiry form or better yet - call us on 800-478-2029.
All that form does is let us know you may have a question or you may be in the early stages of thinking of your next tropical vacation. We are happy to offer hints or suggestions to help you determine if a fully crewed, all-inclusive catamaran is right for you.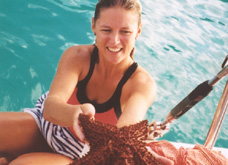 Our favorite letter - A Mother's smile while enjoying family fun…
My wife had been warning me for a long time that I needed a break from the pressures of my office.  A friend recommended I contact Andrew at Barrington Hall. A boat charter in the Islands, I questioned? Andrew assured me the family (including our 5 year old) would be in good hands and we would have a wonderful time. I bit the bullet and booked with Andrew.

On day 5 of our 7 night charter my children and I were listening to the captain tell us about some sea life our little one had spotted while swimming. As Captain Bill was talking I noticed my wife watching from afar.

She could not hear that conversation, but it was right then I saw that loving smile as the mother who was happy, content and completely enjoying herself as she watched her family. I had not seen that beautiful smile in some time, and it's that smile that caused me to want to do it all over again…

Thank you Andrew for following up with me until I finally made the right decision to go. We look forward to doing it all again.

Thanks again Andrew
Ron C. & Family,
Tigerton WI

Call us on 800-478-2029 as we love to assist people with questions about the Caribbean Islands.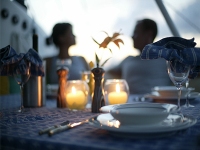 Romance rekindled, she says, "I never saw it coming..."
First let me say when he tried to sell me on coming with him to "live" on a small boat for a week in the islands I laughed and told him No Way!

Well he won and I am so happy he did because I was the one who really won. After 8 years I think we both began questioning if we were happy together.

After 15 minutes on the boat I was completely overwhelmed by the luxury, and during the next few days I noticed we both were really enjoying each other again and yes, old sparks were flying.

The crew was great; they seemed to disappear at all the right times. Then it happened, half way through the vacation on this wonderful yacht.

I will remember it vividly for the rest of our lives as I now realize as a couple we need more quality "get away from it all" time together. He asked me to marry him….. Again!

Mrs Paula B. Long Island NY
View More Testimonials- >> Next