Catamaran Yacht Charters
Perception vs. Reality about a Catamaran Yacht Charter Vacation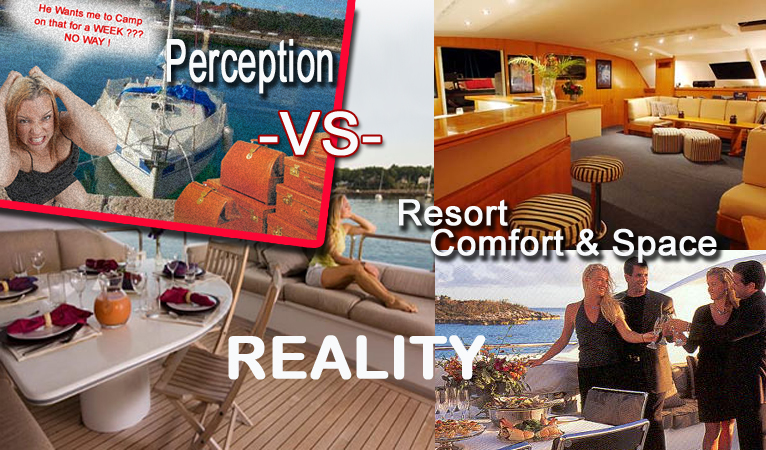 •  You're not going on a camping trip but rather sailing on a Luxury Resort.
•  No cooking, no laundry, no cleaning.
•  Your catamaran yacht will NOT heel (roll) while sailing or have any extreme motion of any kind
•  Wide, Stable, clutter free, SAFE, deck space for comfortable strolls on deck
•  Guided worry free child safe activities 
The health and safety of your family while onboard a catamaran yacht is crucial to a successful charter in the eyes of your crew. You will notice the crew pay a lot of attention to you and your family for the purpose of ...
Cruising, sailing, shore excursions or tender boating fun i.e. fishing, skiing or sight seeing, sun exposure, rest, proper nutrition, water activity management, complete shore briefings and guidelines for children, basic medical needs or on boat accommodations.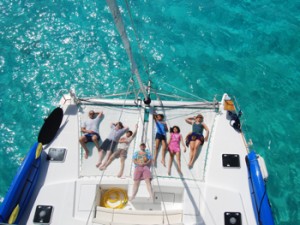 For the first time in modern day sailing history a catamaran yacht charter has taken family safety to a new safer level on the water.
These modern sailing craft no longer heel over when underway. This makes their decks safer to maneuver when sailing, also when anchored. The decks are normally free of clutter and most decks are cream or white simple-to-see footing in front of you day or night.
There is plenty of space to walk around on decks while sailing and plenty of trampoline space to enjoy sailing or at anchor.
Patricia C. of Ohio said that she felt a modern catamaran yacht charter vacation was not a camping trip but more like having your own hotel and staff take you to uninhabited and inhabited islands in paradise.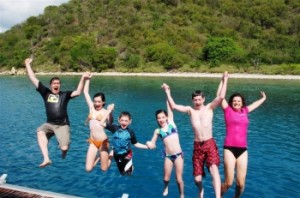 The children were always safe with everyone around as well as a knowledgeable captain and crew that guided them in snorkeling and exploring uninhabited islands where pirates used to play. To our children this was a Peter Pan Land, or mother nature's Disney World for children and adults alike.  This is a true family adventure."
The double queen sized beds at night felt just like home. All the internal space inside our catamaran was magnificent, then there was double this same space on deck.
Andrew made sure we were not subjected to any open ocean crossings, at all times we could see islands around us. "We did feel safe, because were safe! We felt so comfortable our family agreed that we could take on any ocean with our new catamaran, as long as we had this same captain and crew
team".
Crewed BVI catamaran travel agent
It is not usual for BVI Catamaran Travel agent to be unaware of the difference between a bare-boat, captain only and a fully crewed catamaran.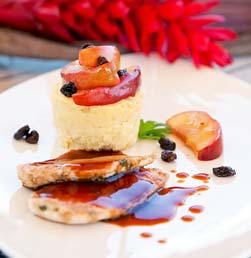 Basically, the crewed vessel means there is a captain and top professional chef on board.
Guidance from the charter broker will provide the travel agent with all the information on where his/her client wishes to be.
As all our advertising is geared towards crewed vessels, we only do fully crewed power boats, fully crewed sailing yachts and fully crewed BVI catamarans.
Click to see a sample crewed catamaran vacation
Selecting your crew, selecting your catamaran, selecting your location, selecting your dates to do your private yacht charter all needs to be done through your Caribbean catamaran broker.
It is your professional representative who can guide you to each of the items mentioned. As complete one stop yachting professionals, we know the catamarans and the crews personally; we take our own pictures of all cabins, salons and crew teams on all the vessels we board at each annual boat show.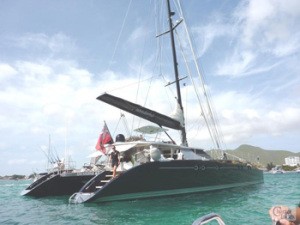 For the past 25 years, we have attended 4 major annual boat shows worldwide to gain knowledge of every vessel. Those annual boat shows are Antigua, Greece, the French Riviera, and Tortola in the Caribbean.
During these last 25 years, it has been a pleasure to be a professional Caribbean catamaran broker while representing all other vessels as well.
You Will Love All Your Caribbean Catamaran Vacations
Soon after boarding to start your catamaran yacht charter you begin to realize the Captain is getting to know you, your family and secretly begins assessing ways to make your adventure pleasant as well as exciting to your level of comfort.
You may notice the captain may adjust the hours of sailing, types of anchorages and even shore excursions based on your comfort level and exactly what makes you happiest. You will also notice from the onset of every activity the captain or one of the crew will be right there to assure your family's guided safety.
Call Us on (800) 478-2029 for all your Caribbean Catamaran Vacations!