Catamaran Sailing Vacations
A Virgin Island catamaran vacation for the entire family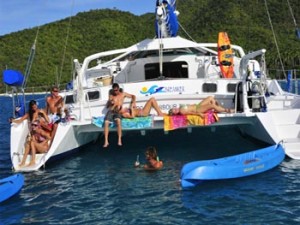 FAMILY SAFETY FIRST
For the first time in modern day sailing history the luxury catamaran has taken family safety to a new level on the water.
These modern sailing craft no longer heel over when underway. This makes their decks safer to maneuver whether or not they are sailing. The decks on a catamaran are normally free of clutter; most are cream or white making it simple to see footing in front of you day or night. There is a lot of space to walk on decks while sailing and a lot of trampoline space to enjoy sailing or at anchor.
Catamaran Sailing Vacations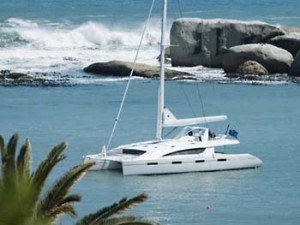 Patricia C. of Ohio said that she felt a catamaran sailing vacation in the Caribbean was not a camping trip but more like having your own hotel and staff take you to uninhabited and inhabited islands in paradise.
The children were always ready for bed by 8 pm not bothering about TV, the day had taken it's toll from their excitement.
Patricia felt the children were safe with everyone around as well as a knowledgeable captain and crew guiding them snorkeling and exploring the islands where pirates used to play. To our children this was a Peter Pan Land, or mother natures' equivalent of Disney World for children and adults alike. A catamaran sailing vacation is a true family adventure experience.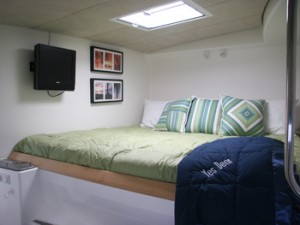 The double queen sized beds at night felt just like home. All the internal space inside our catamaran was magnificent, then there was double this same space on deck.
Our broker Andrew made sure we were not subjected to any open ocean crossings, at all times we could see islands around us. We did feel safe, because were safe! We felt so comfortable our family agreed that we could take on any ocean with our new catamaran, as long as we had this same captain and crew team.
Caribbean Catamaran Sailing Vacations
Kindly Note: We may not recommend all the catamarans that will be seen in this database search. Please contact us for further information on the catamaran, crew and customer reviews.
No one knows Caribbean Catamaran Sailing Vacations better than us.
Choose from 128 private cays and over 400 beaches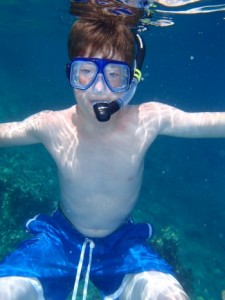 When planning your Caribbean catamaran vacation we will work closely with the captain to include sailing, shopping, diving, beach combing or just hanging out on the boats trampoline or walking the pristine beaches of some island deep in the Caribbean.
Choose your destination and we'll map it out with the captain so your Caribbean Catamaran Vacation is all that it can be.
Your friendly charter crew caters to your every need and guides you to exotic locations.  On the charter we provide guests with a personal chef who prepares delicacies of your own choosing on every luxury Caribbean catamaran vacation we plan for our charter guests.
Here's a few tropical destination spots you might like to include in your itinerary: