Catamaran RESPITE AT SEA
Catamaran RESPITE AT SEA is available for charters in Caribbean
Low Price:
$16,000
| High Price:
$26,500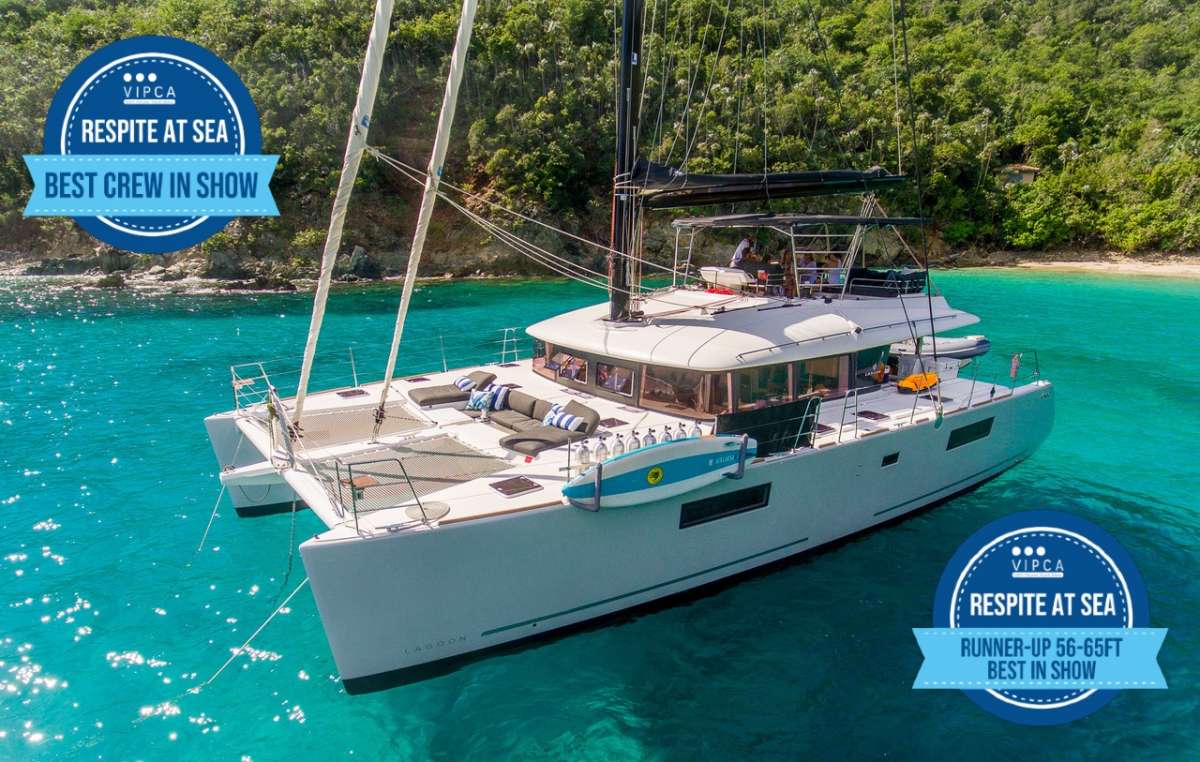 Refit:
Accommodations:
RESPITE AT SEA features 3 guest suites, 3 with queen berths, all with full A/C and ensuite toilet and shower. Starboard forward cabin is reserved for crew.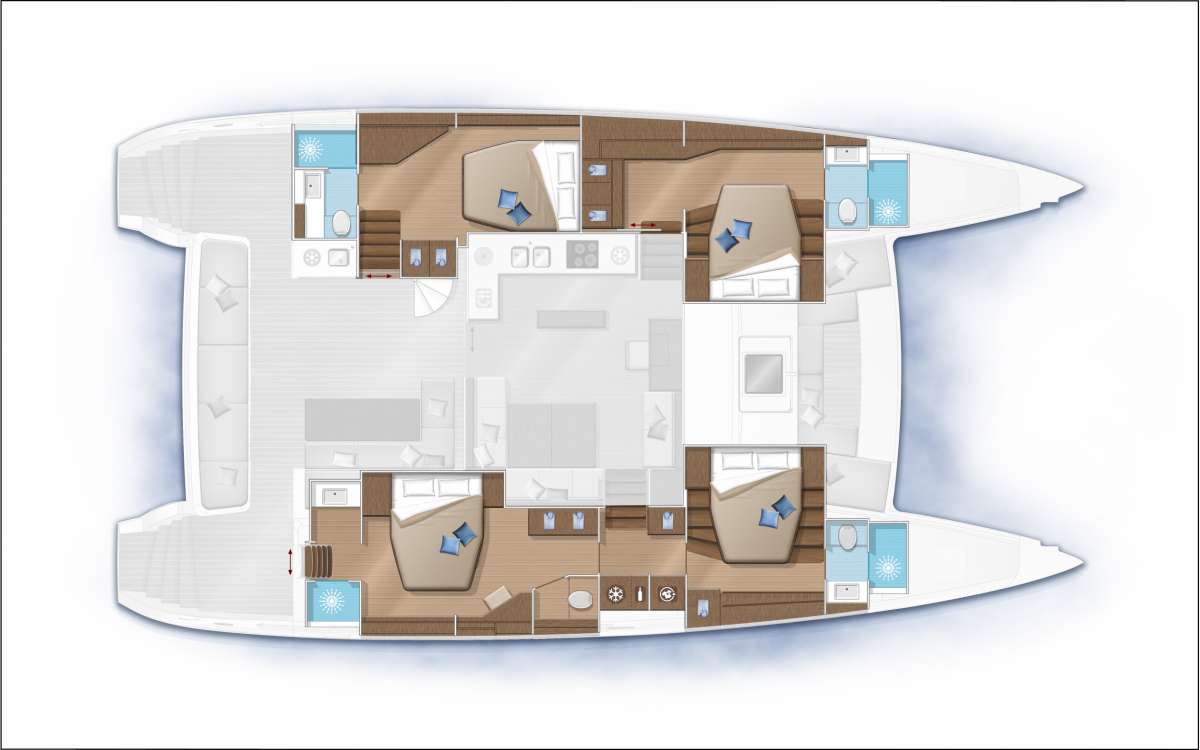 Amenities
Guest Smokes:
Transoms only pls
Minimum Age:
Pet Type:
Water Sports
Paddle Boards:
Gear Type:
Other Toys:
2 Sea Bobs
Flybridge dinning table
Adult water skis available upon request
2 Paddle boards that convert to one man kayaks
Floating chairs x 2


Other Entertainments:
Stream2Sea Products Including-
Shampoo
Body Wash
Leave-In Conditioner
Body Lotion
Reef Safe 30SPF Sunscreen
Communications:
Wifi is available in USVI waters and International waters. Download speeds in foreign countries are not equal to the speeds in the USA.
Crew Profile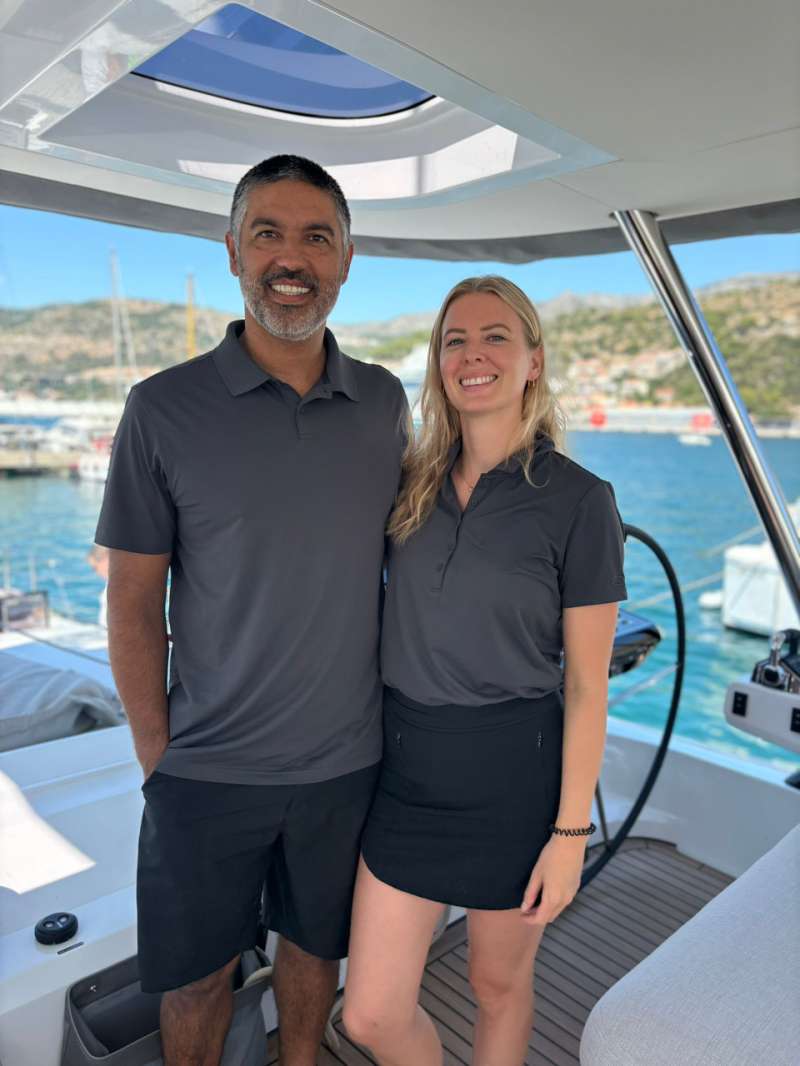 Ross Matthews
Originally from South Africa, has always had an unwavering passion for sport, travel and the ocean. His first time on a boat was with his grandfather at age 3, and he can't help but wonder if this is where his sense for adventure and exploration stems from. They do say "the apple doesn't fall far from the tree". Ross moved to the UK at the age of 18 to travel Europe, go to school and start a more conventional career as a physical therapist, although this all changed while on a short road-trip in Australia. It was here that not only did he find his love for sailing, he also met Daniella and together they made it their mission to make a life out of doing what they really loved.

Daniella "Dee" Cox
Originally from the UK, was brought up in the city of Bristol. Her parents had a passion for the outdoors and most summer weekends were spent at her family caravan. She fondly remembers swimming in the lake, fishing with "paps" and cooking outdoors around the fire, all memories that have strongly shaped her lifestyle choice today. Dee, like many of her friends, began pursuing a more traditional path of University, to study Psychology, followed by a career as a Child Psychologist. However, a one year working holiday in Australia opened her eyes to a completely different lifestyle, one which reminded her of her fondness for the water and the outdoors. Ross introduced Dee to the boating industry and she hasn't looked back since.

Ross and Dee met in the small town of Airlie Beach on the Great Barrier Reef, Australia. Their passion for travel, which brought them together over 5 years ago, continues to fuel their love for the tourism industry, sailing and exploring the world.
It all began at an award-winning adventure tourism company in the Whitsunday Islands (Australia). They have since chartered together in the Mediterranean and most recently the British Virgin Islands. After five years in the industry they have seen some of the most beautiful places in the world and couldn't be happier with their lifestyle choice.

Ross and Dee create a relaxed environment onboard and facilitate the fun had by all in a natural way. They always aim to make the charter personalised to each guests needs, and this shows as no two charters are the same. They enjoy spontaneity and love discovering beautiful new bays. Ross and Dee also love to entertain, whether that be with friends at home or guests on the boat. Dee's passion for cooking paired with Ross' story telling and personable nature makes them a strong team and great company for any occasion.

As a couple they share an interest in snorkeling, diving and marine conservation stemming from their time spent working on the Great Barrier Reef. When traveling, Ross and Dee believe a true way to appreciate a countries culture is through its food, thus are always intrigued to try new dishes. They share a love for food and although on charter Dee takes charge in the galley, Ross proves pretty handy on weeks off.

Together this enthusiastic and vibrant couple are excited to continue their journey in the charter industry and can't wait to see what else it holds in store for them.


Certifications:

Ross Matthews

•RYA Yachtmaster Offshore (com endorsement)
•MCA Approved Engine Course 1 (Sept 2020)
•STCW Basic Training
•PADI Dive Master
•AMSA Master <24 (Australian com qualification)
•CPR/First Aid
•Certificate IV in Travel and Tourism
•OCR SPS Diploma in Sports Massage (LEVEL 5) Full Drivers License

Daniella Cox

•Ashburton Culinary Certificate
•STCW95
•ENG1
•PADI Senior First Aid and Oxygen Administration
•PADI Advanced Open Water Diver
•Level 2 Food Safety & Hygiene
•Recreational boat license inc. PWC
•Full Clean UK Drivers License
•Bachelor of Science in Psychology (2014)