Catamaran OUI CHERIE
Catamaran OUI CHERIE is available for charters in Caribbean
Low Price:
$18,000
| High Price:
$24,500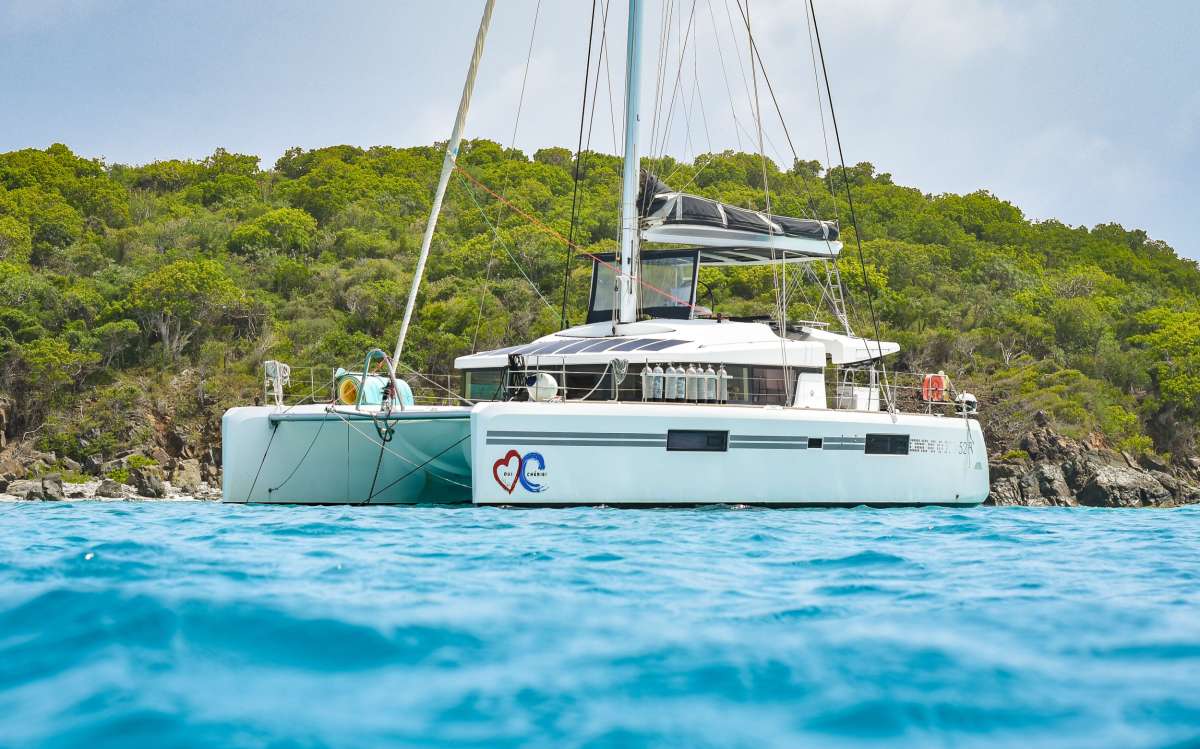 Refit:
Accommodations: 3 Guest Cabins
3 Queen Staterooms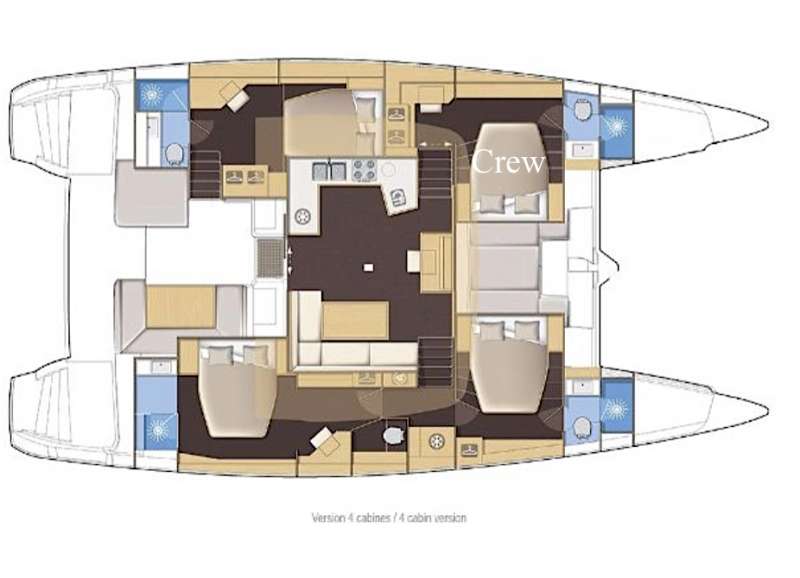 Amenities
Minimum Age:
Pet Type:
Water Capacity:
unlimited
Water Sports
Dinghy Size:
14' Highfield
Paddle Boards:
Swim Platform:
Gear Type:
2 Trawling, 2 Casting, 2 Fly
Other Toys:
1 x Sub Wing
20' Aqua Lily Pad
Water Skis available if requested
Complementary USVI and BVI map to track your charter
Other Entertainments:
Oui Cherie has tons on onboard games including dominos, cards, moancala, jenga, uno, banana grams, what do you meme, Yahtzee, catch phrase, mille bornes, bocce ball and horse shoes.
Over 100 movies available on a hard drive.
Communications:
Wifi is available in USVI waters and International waters. Download speeds in foreign countries are not equal to the speeds in the USA.
Crew Profile
Capt. Travis Krueger

• USCG 100 Ton Master Captain
• USCG STCW Safety Training, Crowd Control, Crisis Management
• ATOM Leadership and Management Training
• USCG Sailing Endorsement
• PADI Master SCUBA Diver Trainer
• PADI Open Water Instructor
• PADI Freediving Instructor
• Emergency First Response First Aid and CPR Instructor
• Barmasters of Virginia Mixologist
• Certified Repair Technitian for PSI, ScubaPro, AquaLung, Sherwood, and Cressi

Capt. Travis discovered his love of the water growing up on the Great Lakes of Michigan. Sailing, fishing, and water skiing were his childhood passions. When those same lakes froze in the wintertime, Travis honed his competive edge playing Ice Hockey and varsity Swimming. When it was time for him to break from his midwestern roots, Travis joined the United States Navy's Nuclear Engineering Program. While serving for Uncle Sam he soon discovered the awesome undersea world of SCUBA diving. After his service in the Navy, Travis went on to study at the University of Connecticut and bartend his way through college. His outgoing personality combined with his military attention to detail helped him excel in the world of hospitality management. Travis managed and opened a number of restaurants and hotels throughout New England before he decided to investigate the sunny Caribbean. Travis has lived here in the Virgin Islands for over 16 years. During his time here, he has placed a signature cocktail on the menu of the famous Duffy's Love Shack. Travis has taught sailing and windsurfing to the guests of a major resort. He has captained the performance daysail catamaran Daydreamer around the US and Brittish islands. For years Travis has been a SCUBA instructor and dive boat captain at the island's best dive shops even distinguishing himself as "The Face of Redhook Diving" on area billboards. Two years ago Travis found his co-captain and best mate, Missy Kom. The two of them have been running excellent charter adventures aboard a luxury catamaran. Basically, Living The Dream!

Capt./Chef Missy Kom

• USCG 100 Ton Masters
• Vessel Security Officer
• ATOM Leadership and Management Training
• PADI StaffInstructor
• PADI Master Scuba Diver Trainer
• PADI Open Water Instructor
• Emergency First Response First Aid and CPR Instructor
• Certified Wine Sommelier

Captain Missy's love for the Caribbean began more than 20 years ago when she left her hometown of East Hampton, NY to move to St John ,USVI.
She became a dive instructor in 2000 and is one of the highest ranked instructors in all of the Virgin Islands. With over 8,000 dives under her belt, Missy takes the sport to a new level. From beginner divers to experienced divers Missy educates you on everything from diving techniques to learning about the incredible marine life of the Caribbean. Missy became a day boat Captain in 2004. From running dive charters and island hopping around the US and BVI, Missy knows every remote spot so you can relax and disconnect in this Caribbean paradise.
Growing up in East Hampton, NY Missy had the honor of working with some incredible Chefs and Entertainers. Among those, Ina Garten, The Barefoot Contessa. This fortunate experience help move her in the direction of creating delicious and elegant food. She also spent several years working at the famous celebrity haunt, Nick & Toni's restaurant. Another honor to work with many talented James Beard Award winning chefs. In 2007 Missy passed The Court of Masters Sommelier Exam to become a certified Wine Sommelier. Missy loves to explore the wine world by doing weekly wine and cheese pairings with her quests.
Missy is truly living the dream diving, sailing, creating culinary masterpieces while drinking great wine in paradise.