Catamaran LA VANDALAY
Catamaran LA VANDALAY is available for charters in Caribbean
Low Price:
$20,230
| High Price:
$26,180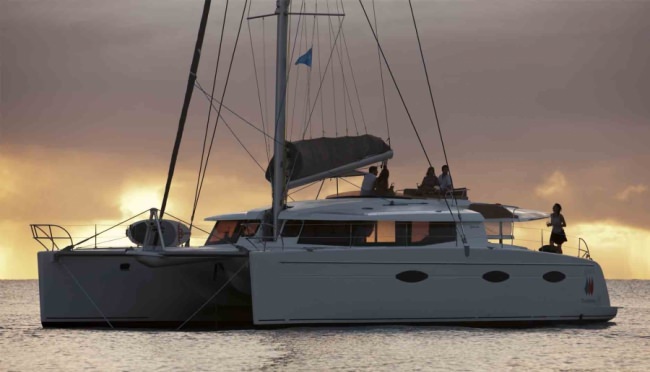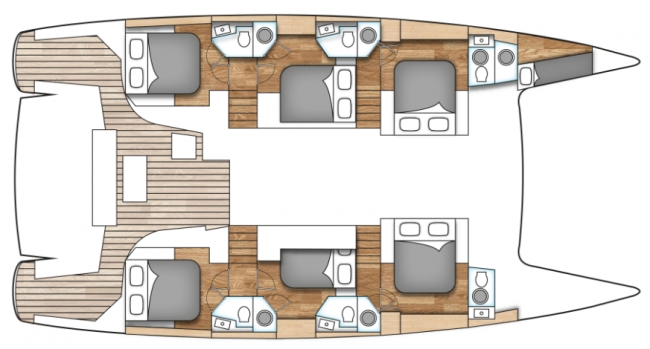 Amenities
Dine In:
Hammock:
Windscoops:
Guest Smokes:
Minimum Age:
Pet Type:
Water Capacity:
1050 L / 278 US Gal
Water Sports
Dinghy HP:
Dinghy Pax:
Paddle Boards:
Boarding Ladder:
gangway plank
Gear Type:
Crew Profile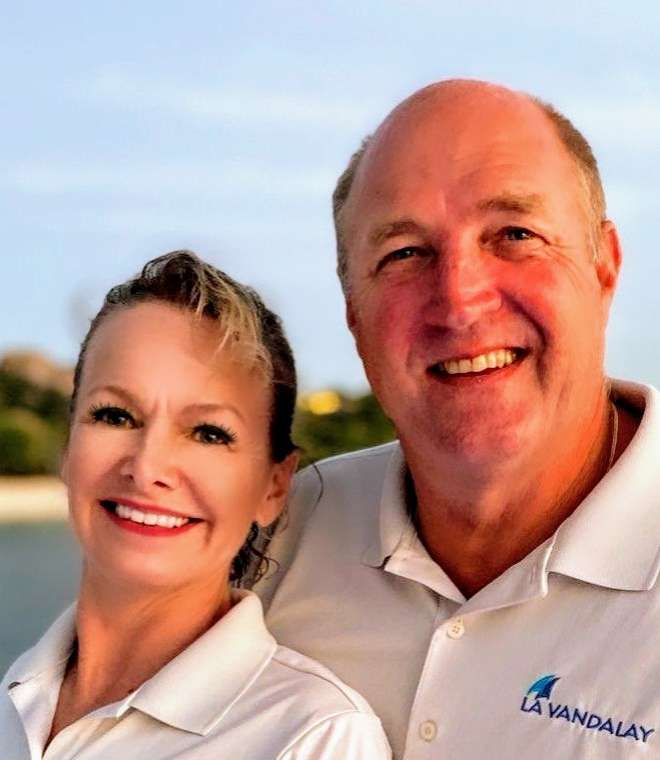 This yacht operates as a cabin charter yacht as well. So they yacht goes out on charter every week, Saturday to Saturday. As a result, the crew rotates and we do not have crew profiles available.

Captain:SY Frédéric
born: in France in 1966 (51 ans)
language spoken:English,French
certifications:
• Captain yacht 500 offshore
• Captain sailing 200 offshore
• General operator certificate
• Medical 2 ,arpa,
• certificate of proficiency in survival craft
• certificate of proficiency in advanced firefighting
• Instructor at the cruising school (les glénans)
• 25 years in charter catamarans in the Caribbean
• 4 Transatlantic deliveries
• Instructor at the cruising school (les glénans)

Born in brittany(france),sailing quickly became is passion, he learned to sail at the famous sailing
school « les glénans » .Then he became a sailing instructor on cruising boat and later a professional
boat captain.
He did some deliveries across the Atlantic ,in the Caribbean and the mediterranean sea for the charter
boat industries.
He has an experience of twenty-five years on all types of sailing boat in the Caribbean and in the
mediterranean sea.
guests can always feel safe and secured as well as entertained with frédéric
He will make you discover the west indies which have no more secrets for him.
He looks forward to making sure that your holiday is everything you want it to be and will go out of
his way to ensure you have an unforgettable experience.

Isabelle DUFRANC
Place of birth : France
Language spoken: French, English, Spanish, Italian ( basic)
STCW95 - Boat licence
Food Certificate

Isabelle DUFRANC will be your chef. She is enthusiastic with a passion for cooking and for the outdoor life. You will be delighted with her delicate and elegantly presentation cuisine.
One of her biggest passion is travelling which gave her inspiration to cook.
Her pallet is eclectic: Italian cuisine, French , Spanish, Asiatic Specialties, Caribbean , Japanese her dishes are sure to please you.
Since 10 years she is sailing she will ensure a safe travel to the clients.
Isabelle is so kind with a natural human contact who will make your holidays unforgettable.

Area Travelled:
Africa - Italy - Spain - Portugal - England - India - Sri Lanka- Nepal - Tibet -
Philippine - Thailand - Laos - Indonesia - Australia - USA - Canada
Argentina - Chile - Dominican Republic – Grenada -St Martin – BVI -

Other passion:
Tennis - Snorkeling - swimming - Trekking - bicycling - Reading - Music- snowboarding




New Crew beginning January 2020: Dennis and Stephanie Tonge

Captain Dennis has been drawn to the water and nature as long as he can remember. As the only boy with four sisters, his favorite childhood memories were the times they spent boating, sailing, fishing, and camping. He then raised two boys and a girl enjoying much of the same in the great outdoors. When he wasn't tending to business he could most likely be found on one of his boats or under the water in diving gear. P.A.D.I. Dive Master Dennis has over 3800 dives under his belt! You can certainly say he loves the sport and sharing the magic below the sea! With the family grown and the ocean calling, Dennis and Stephanie liquidated their land-based treasures and headed for the Caribbean. They have since logged over 15000 miles sailing the Caribbean and Atlantic Ocean.

While Dennis is a serious captain, his spirit is enormously playful. His sense of humor and friendly demeanor will make you feel like you've made a friend in an instant. This Master Captain has also earned his title of Grill Master and Chief omelet aficionado! Join Captain "D" as he shares those secret harbors of the Virgins on your next dream vacation!
Stephanie fell in love with sailing the Virgin Islands when her parents chartered a sailboat in the B.V.I.s at age 12. In her words, "It never quits being magical" immediately after college she was hired by a cruise line as staff in the Purser's office. Consecutive one-week cruises for a straight 8 months didn't put a damper on her enthusiasm for the industry, she moved into marketing and even spent 2 years using her industry knowledge for the production of a travel T.V. series, Tourific Destinations on the Discovery channel. Years later when Dennis suggested he wouldn't mind giving up a land based home for sailing, she was "All In! "

Travel and sailing combined with Stephanie's talents in the culinary arts have been a dream come true! Her attention to detail in the galley is unparalleled. On board guests quickly nicknamed her "Saucy Stephanie" as she has an uncanny ability to combine flavors to please the palette! She also has a wide variety of gluten free, pescatarian and vegetarian delights!

Captain D and Stephanie love to share their enthusiasm for the places and people of the Virgin Islands, and they look forward to introducing their guests to this beautiful part of the world while creating memories that will last a lifetime.