Catamaran NENNE
Catamaran NENNE is available for charters in Caribbean
Low Price:
$40,000
| High Price:
$46,000
Refit:
New larger tender June 2019
Accommodations: Accommodation for 10 guests, in 5 cabins which are all en-suite: 1 King, 3 Queens, 1 Twin. Upon request the Twin can be configured to King. All have independently controlled AC, Sony TV and Apple TV with access to onboard server film library with over 500 films and Bose hifi music system. The very large master cabin has a desk/dressing table and a comfortable couch.

Toiletries are provided and Nenne has sunblock on board, but ask clients to bring their own sunblock that agrees with their skin (Nenne provides a guideline in a Helpful Hints guide prior to the charter).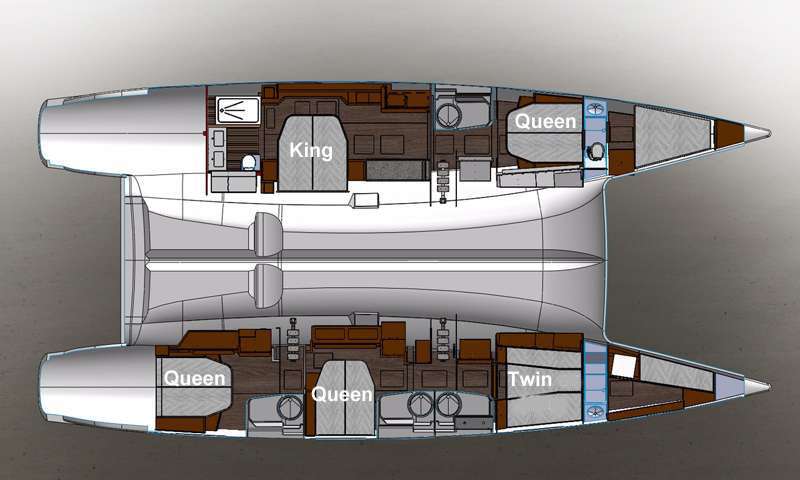 Amenities
Dine In:
Pet Type:
Generator:
Two: 17kW and 10 000 W
Water Maker:
Water Capacity:
Water Sports
Dinghy Size:
Highfield DL420
Paddle Boards:
Swim Platform:
Yes, at stern
Boarding Ladder:
2 drop-down, off transom
Other Toys:
Adult, junior, and trainer water skiis
Adult and junior wakeboards
2 x Stand Up Paddleboards
Several towable inflatables
10 snorkeling sets of various sizes
2 X Go Pro cameras in waterproof housing
Canon camera
A Mavic Pro Drone - rated the best drone of 2017 (operated by the Captain to take some wonderful pictures of your charter experience on board Nenne). Also:
• Go-Pro & Digital guest photos as keepsake
• Personalized guided shore excursions
• Cliff and boom jumping
• Laser star show

Note there is a shade over the whole flybridge area on Nenne.

Nenne has a dinghy lift at the back (instead of the garage) to make skiing and all water sports much easier.
If clients wish to obtain a temporary Fishing Permit they will need to quote the boats permit #748004.

Games:
1000 Piece Puzzle
Alias-Swedish game
Animal Rummy
Articulation-Quiz
Back Gammon
Brandi Dog-Swedish game
Chess
Chromino
Cludo-The Classic Mystery Game
Clue
Condor Stratergy
Domino
Five Crowns- Five-Suited Rummy-Style Card Game
Liars Dice
Majahong-Domino Type Game
Mexican Train-Domino game
Mille Bornes
Monopoly
Othello-Strategy
Pass the Pigs-Small and big version
Playing Cards
Quiddler-Word Game
Quirkle
Scotland Yard-Monopoly type Game
Scrabble-Brand Crossword Game
Set-Family Game of Visual Perception
Sorry
The Dating Game-Truth / Dare
UNO
Word Grab

Other Entertainments:
Apple TV in every cabin and saloon connected to satellite system. Music system is available in every cabin, saloon, cockpit and flybridge connected to a film and music server with wide range of content. Wine cooler and trash compactor. Extra fridges and freezers and high volume ice maker.
Molton Brown (England) toiletries in every bathroom.
Nenne has 220v as well as USB ports in every room. Also 110v transformers. In addition there are hairdryers in every room as well as a straightening iron.
Nenne has a medical kit to MCA coding.
Extra staysail & gennaker
High quality sail material
Electric winches throughout
Inversion hatches on the underside
Large array of safety equipment
The pulpit is fully enclosed for safety

Nenne welcomes tandem charters but for safety reasons no rafting will be possible.
Communications:
**Onboard WiFi in BVI ONLY (does not apply to other islands) Internet: NEW UNLIMITED 4G LTE, This is fast internet service with 95% coverage of the BVI. This allows guests to check e-mails, send files, stream Netflix or other video media without any issues and unlimited users.

Onboard WIFI when in range for other islands.
Internet usage - if more than 5GB is required it would be at the cost of the charterer
Crew Profile
NENNE's crew of three is a dynamic and welcoming team who instantly help you feel relaxed and right at home. Donald and Audrey, married for 22 years, met in South Africa and have spent the last 10 years sailing in the Caribbean. Their great sense of humor, excellent hosting skills and vibrant zest for life promises to make your vacation an unforgettable experience.

CAPTAIN DONALD HARPER held several positions, from Managing Director and COO prior to following his dream of a joyful life at sea. Besides his love for his charming wife Audrey, sailing is his greatest passion followed closely by Scuba diving, fishing, and kayaking. As well as being an Offshore Captain and a PADI Scuba Diving Instructor, he is also quite the comedian and enchanting storyteller!

1ST MATE & CHEF AUDREY HARPER enjoyed a career as high school principal prior to becoming a charter yacht chef. Cooking has always been a passion of hers. With her dream of traveling the Caribbean and working as a Chef, she is delighted to meet any requirements of her guests with her delicious culinary treats. As an Offshore Captain and PADI Advanced Scuba Diver, she is hands on with boat handling and water activities. She completed a CTH Level 2 Certificate in Culinary Skills and a Pastry and Puddings Plus certificate from the prestigious Ashburton Cookery School in England. She holds a teaching degree in Education and an Honors Degree in Education Management, Law, and Policy. Whatever your culinary needs, Audrey will take care of you!

DECKHAND/STEWARD/ESS: TBA

ROTATIONAL CREW FOR 2020 SUMMER SEASON ON NENNE:

Captain Magnus hails from the frigid fjords of Norway with several captains in his blood line. He spent his entire childhood regatta racing, teaching sailing and working for the King in the Norwegian Navy before he felt himself being drawn to far more tropical latitudes. Now, thawed out, and after several years of cruising on his private sailboat, multiple ocean crossings and chartering the most stunning waters and island groups in the world, he can guarantee a fantastic experience with well thought out itineraries and adventures.

Chef Lindsey hails from New England and a long line of chefs. Following in her fathers footprints, she found herself in the restaurant industry at a very young age. Always mesmerized with the tasty creations flowing out of the New England kitchens she worked in, she decided to peruse her passion for the culinary arts. She immersed herself in culinary courses and the bustling food scene. In an effort to keep her passion for travel stoked as well, she set off in the yachting industry roughly eight years ago. From the Eastern Seaboard of the US, France to Spain, Italy to Turkey, Croatia and many other stops in between, she has honed her skills in several different styles of cuisine. On crossing the Atlantic she let her creative side flow with inspirations from the Caribbean and South America. She takes much pride in tantalizing your taste-buds, but also in constructing creative cocktails, and cultivating a vacation for the memory books! Magnus and Lindsey met at anchor and have been together, living on boats, for over 5 years. They tied the knot last year in Tenerife, in the Canary Islands.


The Crew on Nenne have won 17 awards at the annual charter yacht shows:

CHARTER AWARDS:

2018:
Yacht Nenne
Best Multihull over 57ft, BVI Yacht Charter Show

2016:
Yacht Bamarandi
Best Multihull over 57ft, BVI Yacht Charter Show
Second Place, Culinary Chef Competition, Appetizer Section

2015:
Yacht Bamarandi
Third Place, Chef competition at the Antigua Yacht Charter Show for yachts under 125 ft
Third Place, Table Setting for yachts under 125ft

2014:
Yacht Aletheia
Best Boat on Show at the BVI Yacht Charter Show
CYBA Save the Blue Award for the most Eco-friendly yacht at the Antigua Yacht Charter Show
Second Place in the Chef competition at the Antigua Yacht Charter Show for yachts under 99ft
Third Place in the Chef competition at the BVI Yacht Charter Show, Mount Gay Rum section

2013:
Yacht Aletheia
Best Multihull on Show over 57 ft at the BVI Yacht Charter Show
CYBA "Save the Blue Award" for the most Eco-friendly yacht at the Antigua Yacht Charter Show
Second Place in the Chef competition at the St Thomas Yacht Charter Show
First Place in the Table setting competition for yachts under 99 ft at the Antigua Yacht Charter Show
Second Place in the Cruising World Cup in St Barts

2012:
Yacht Flow
CYBA Save the Blue Award for the most Eco-friendly yacht at the Antigua Yacht Charter Show
Second Place in the Chef competition at the St Thomas Yacht Charter Show
Third Place in the Chef competition at the Antigua Yacht Charter Show, the coffee section