Catamaran NAUTI CAT
Catamaran NAUTI CAT is available for charters in Caribbean
Low Price:
$17,700
| High Price:
$21,000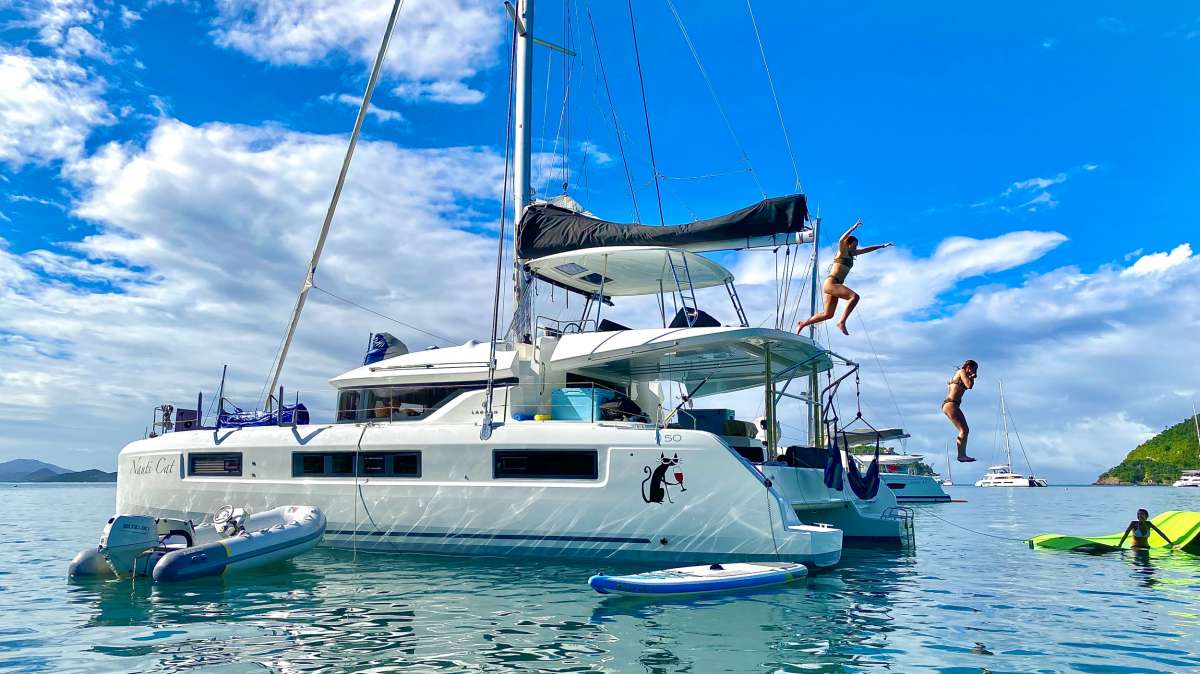 Refit:
Accommodations: Standard configuration:
6 guests in 3 Queen cabins each with private ensuite head with enclosed shower stall.
1 double berth available port mid-ship. This cabin would need to share forward stateroom head. Perfect for kids but this bunk will accommodate two adults as well.
Crew has aft port cabin and head.

Oprtion configuration:
4 queen cabins each with private ensuite heads and enclosed shower stalls.
Crew sleep midship in double berth and need to share forward port cabin head.

Crew berth (double cabin) bed measures 51"x80"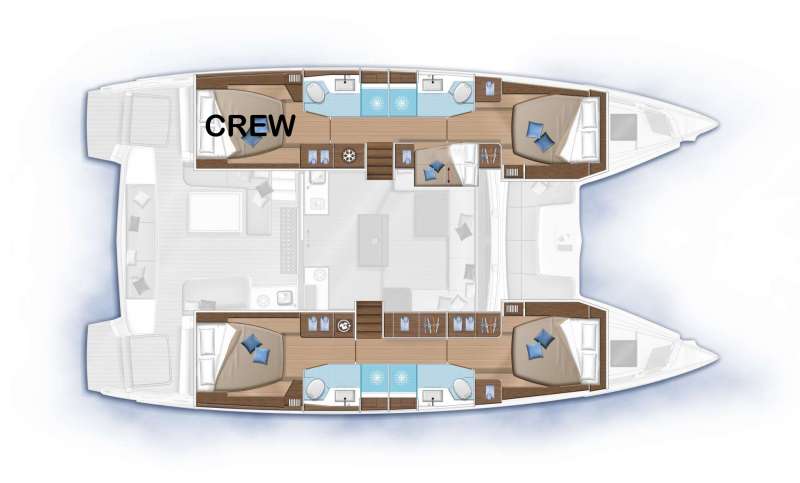 Amenities
Dine In:
Guest Smokes:
Aft sugar scoops only
Minimum Age:
water safe - bring life vest
Pet Type:
Water Sports
Paddle Boards:
Swim Platform:
Boarding Ladder:
Off scoops
Gear Type:
Other Toys:
Variety of fun themed inflatables, towables & water tubes and a lilly pad

Crew Profile
CREW STARTING NOVEMBER 2020

22 years ago, Peggy and Bob fell in love and were married on a Jamaican beach. After that amazing introduction to island life, they have been enthralled with everything the Caribbean has to offer; its rich cultural diversity, endless beauty and island lifestyle. Sharing an enthusiasm for adventure, they love the Caribbean, the ocean, sailing, diving, biking, traveling the world and entertaining.

They both have a passion for cooking and have successfully completed several courses including a 16-week professional Italian culinary course from Loretta Paganini's School of Cooking. Bob recently won first place at an Ohio competition, for his gourmet baby-back pork ribs, featuring a dark chocolate and a home-grown hot pepper dry rub.

There's nothing Peggy and Bob enjoy doing more than cooking for a crowd, whether it's a themed Mardi Gras dinner for 50 featuring their amazing Gumbo and homemade pralines, Caribbean night highlighting Bob's specialty jerk chicken or an intimate Italian meal of Braciiole and pasta with Barolo wine for friends or family.

Owners of Tropical Holiday Vacations, a vacation property company featuring Villas on the western coast of Florida. Proud to have earned an average of 5-star reviews and Superhost status from both Airbnb and VRBO, they are driven to offer the best, most memorable experience for their guests; they are not happy with anything short of delighting their clients.

A lifelong dream has finally come true as Peggy and Bob have set sail with Nauti Cat, their brand-new Lagoon 50 Catamaran. With their passion for sailing, cooking and entertaining, they will bring you exquisite food, extraordinary accommodations and a fantastic unforgettable experience.
They both have extensive experience sailing in and around the Caribbean. Bob has been sailing since college where he was very active in the Purdue Sailing Club. He loves racing both catamarans and monohulls.

Peggy's vibrant and caring nature ensures that everyone feels completely welcome and at ease. Peggy continually works to refine and enhance her culinary skills. She is registered to attend the Yacht Chef Course at the Ashburn Cookery School, in the United Kingdom to further refine her culinary skills. She is also very excited to be working with award winning chiefs, both in Charleston and around the world, to develop new delightful dishes to feature in 2021. Her attention to detail makes sure everything is just right.

Bob started his vocation as an engineer with a degree from Purdue University and earning a master's degree from Case Western University. He has worked for Fortune 500 companies and most recently in private equity. During his career, Bob has traveled the world conducting business on almost every continent.

Introduced to diving, on their honeymoon, Bob is a Nitrox certified advanced underwater diver with plans to complete the rescue diver course and obtain his dive master certification. He has dived around the world, including living on a dive boat in Australia and exploring the worlds second largest barrier reef in Belize.

Finally, Peggy and Bob are living their dream, by sharing the thrills of sailing, the majesty of the ocean and the wonders of marine life, throughout the islands, with others.


CREW THROUGH SUMMER 2020
ANDREW & MICHAELA
Crew Profiles:
Captain Andrew and Chef Michaela have been working on day sailing charters as Captain & Crew for over 3 years, and most recently a year together on a term charter yacht exploring all throughout the US and British Virgin Islands. They have been spreading their passion for sailing, snorkeling, and all around adventuring to thousands of guests from all over the world on a daily basis. Furthermore, Andrew and Michaela are excited to take their passions to the next level for Ocelot and to show their guests all the amazing things the Virgin Islands has to offer.

Andrew was a late bloomer to the world of sailing, growing up in suburban Chicago. But he knew his passion for the ocean was there from an early age, and moved to San Diego for college, and proceeded to take sailing lessons immediately upon his arrival. Starting off in boats hardly bigger then himself, his passion for all things ocean continued to grow as rapidly as his sailing experience in and around southern California. Upon graduation from San Diego State, with a degree in hospitality & tourism, Andrew decided to focus on sailing, and became a US Sailing Certified Instructor, and spent his time teaching sailors new and old the wonders of the ocean. A quick return to the Midwest, and cold Chicago winters, ended with Andrew getting his USCG Master Captains license, and a move "Down Island" to pursue his dream of becoming a full time Captain. He is now excited to continue chasing his dream, and to share his love for all things ocean with all of his guests, as he continues to grow as a diver, surfer, chef, host, bartender, and most importantly lifetime sailor.

Born and raised in the Virgin Islands, Michaela spent her childhood working at her fathers dive shop on St. John. Spending her formative years scuba diving, sailing and snorkeling she considers her-self a professional mermaid. After receiving a Bachelors degree in Business Management From Five Towns College In Long Island NY, and while attending school she established four years of experience in the service industry. Michaela found her talents for communicating and connecting with people while representing and promoting big name brands at events in the New York City. After four years she was drawn back home to the water and has dedicated the last three years to the charter business. Highly knowledgeable about local waters and hotspots she is excited about sharing her unique and beautiful home. She has a super energetic spirit that keeps her constantly looking for adventure and new friends.

Collectively Andrew and Michaela have traveled to 45 countries and are on a constant quest to never grow up. They fell in love surrounded by the turquoise water of the Caribbean and soon after realized they made spectacular sailing partners. Their dream became a reality on a Summer sailing trip to the Greek islands and they knew they were meant to make it their career. With their professional sailing experience, unique island expertise, and impeccable hosting backgrounds, they are ready to show their guests a one of a kind, and once-in-a-lifetime opportunity.