Catamaran Ghost
Catamaran Ghost is available for charters in Caribbean
Low Price:
$21,860
| High Price:
$24,860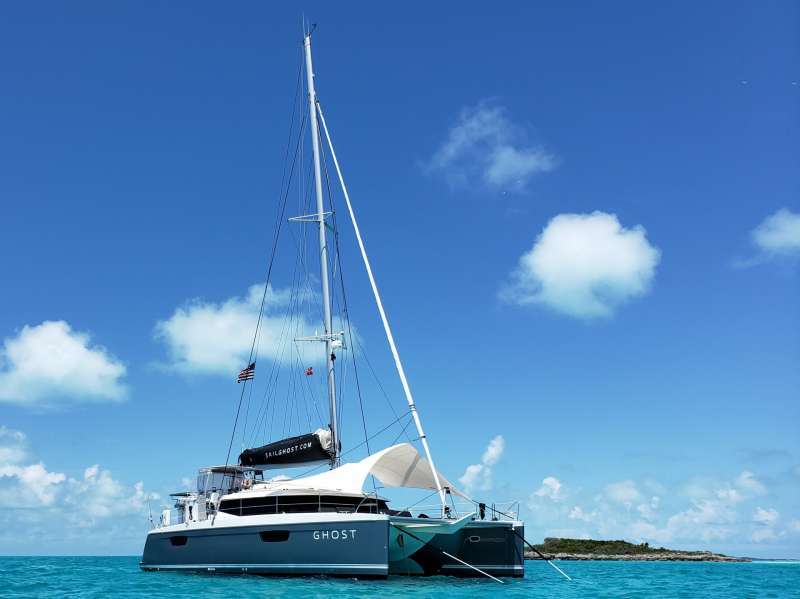 Refit:
Accommodations:
Ghost is best suited as a 6 pax with option for 8 for families with children. Guests accommodations in 3 Queen en suite cabins, and one double cabin with detached head across the hall. Crew takes starboard forward cabin.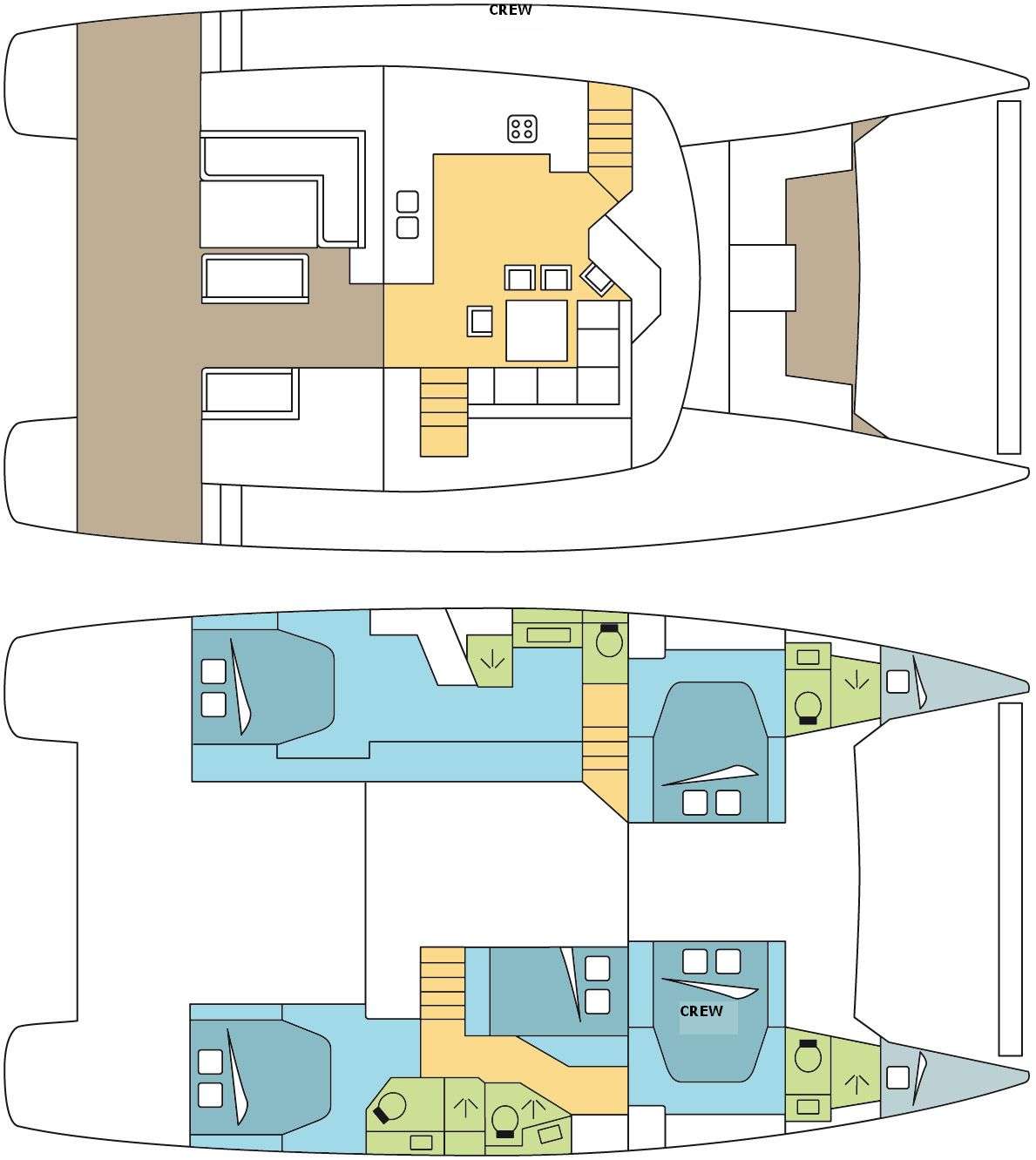 Amenities
Dine In:
Hammock:
Guest Smokes:
On sugar scoops only
Pet Type:
Water Capacity:
Water Sports
Dinghy Size:
Highfield CLT-380
Paddle Boards:
Boarding Ladder:
Yes/Stern
Gear Type:
3 Rods and Tackle
Other Toys:
• Snorkeling gear – Top-of-the-line Cressi snorkel gear in all sizes (including children's)
• iRocker Blackfin XL 2-person stand-up paddleboards (2X) (stable enough for water Yoga!)
• Kayak seats (4X) converting the SUPs into Kayaks
• Floating island – 12' X 9" CoolerZ floating island lounge equipped with canopy and inflatable pillows.
• ZUP board – Beginner to advanced, this board provides a thrilling ski-board experience.
• Fishing gear and tackle – Trolling and casting fishing gear
• Underwater lighting – Ghost is equipped with spectacular custom, one-of-a-kind 120,000 Lumen underwater lighting system.

Custom made Canopy and sun shades – Created in France specifically for Ghost, this shades transforms the forward cockpit into an incredible relaxation area (the perfect spot for sun-setters.) In addition to shelter from the sun, it creates a "wind-tunnel" affect providing a large temperature decrease; amplifying the comforting island breezes. In addition, Ghosts cockpit sun screens adjust to your preference creating a cool relaxing environment.

Ghost carries the lasted generation Thermacell Radius system protecting our guests from shore based mosquitos and no-see-ums. These units are portable and also available for use when dining outside ashore.

Other Entertainments:
Ghost's Galley:
No expense has been spared in providing guests aboard Ghost the finest culinary experience. Her commercial-grade galley equipment includes a 1000-degree pizza oven/searing station, Plancha, Solaire infra-red grill, sous vide, and bread maker (there's nothing like waking to the aromas of fresh baked bread.) Commercial espresso and coffee machines, full size dishwasher, pizza/searing oven, induction cook tops.

Communications:
Audio/Video and communications – Ghost is fitted with custom A/V and communication equipment including Iridium Satellite communications and,
• PepWave / Rogue Pro Extended CELL/WiFi system – Once connected to Ghost's router, you have unlimited WiFi access including cellular data connectivity up to 18 miles offshore. This provides Internet continuous internet connectivity on most areas in the Bahamas.
• Satellite based TV – 500+ channels including HBO, Showtime, Cinemax and virtually all other premium cable and sports networks are available onboard.
• 3X 4K QLED TV's with huge 49" TVs located in the Saloon and Master stateroom each equipped with Apple TV provide personalized access to Ghosts stunning video system.
• A combination of Fusion and Sonos audio equipment provide music through Ghost, including access to your personal audio library. Personal Bluetooth speakers are provided in each cabin for your personal listening pleasure.

Crew Profile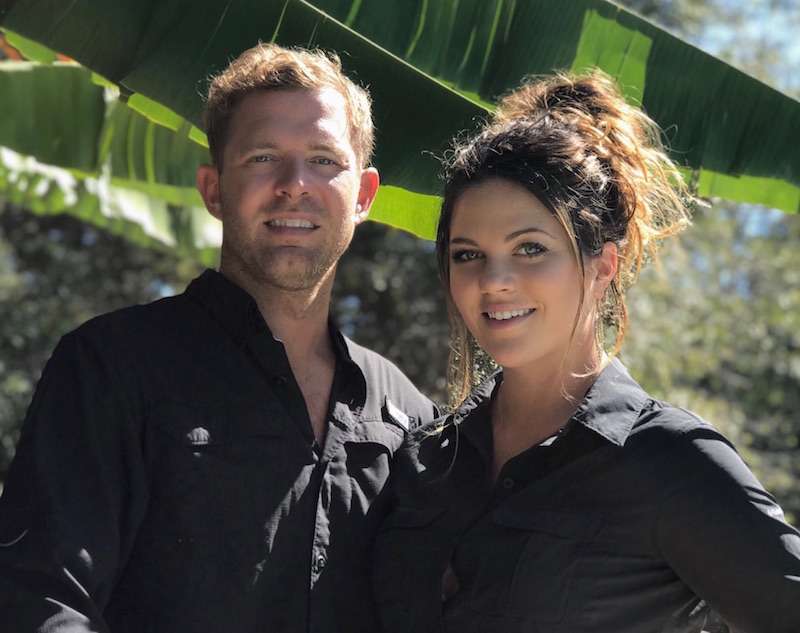 Stephen moved to St Thomas from Hilton Head Island, SC where he operated a kayak nature tour. He really enjoyed seeing people interact with the surrounding beauty and loved to facilitate their personal experiences with nature. Stephen also spent time working in the restaurant industry on Hilton Head, and he learned to become a very creative mixologist working behind the bar.

Once Stephen moved to St Thomas, he fully immersed himself in the culture and the lifestyle. He quickly picked up free diving and spear fishing, both as a way of enjoying his days off and spending time on the water and as a way of treating himself and his friends to delicious, fresh seafood. Stephen is an avid free diver and knows all the best lobster spots in the Virgin Islands. From jumping in the water with a snorkel and mask to seeing his guests taking the first bite of his catch, grilled to perfection, Stephen truly loves the whole process of "Sea-To-Table."

Stephen has his USCG Masters License and a STCW 95 certification. He has logged over 4500nm sailing from places between New England down to South America. Stephen has experience navigating on both open ocean and near-shore bodies of water. He truly enjoys the life of a sailor. He is a high energy captain and couldn't be more excited about helping to make peoples' dream vacations better than they ever could imagine.

This being Stephen's fifth season as a captain aboard a term charter yacht, he knows all of the secrets the US and British Virgin Islands have to offer. It will not be uncommon to pull into a little beach bar and receive the local treatment when guests arrive with Captain Stephen!

Caitie has always had an unexplainable love for the ocean. Some of her favorite memories are bass fishing with her dad and hitting the open ocean on her grandfather's fishing boat. She never truly understood the meaning of this passion until she moved to the US Virgin Islands in 2014 after obtaining her B.S. in Biology from East Carolina University.

A year later she found herself living in South Africa, cage diving with Great White sharks and free diving the reef systems off the Mozambique coastline. During this time, she realized that the ocean was where she was meant to be, so she obtained her STCW 95 certification to work as crew aboard yachts and returned to the U.S. Virgin Islands. She joined Stephen and three other crew to assist in the delivery of a catamaran sailing from Tortola to Trinidad. After spending the next several years working for several different USVI charter companies, Caitie earned her USCG Master Captain License, and then attended Ashburton School of Culinary in England.

Working in the service industry since she was old enough to hold a job, Caitie has learned all about the importance of creating memorable experiences for guests. She believes it is always about the little things, and that is what she and Stephen try to capture in every unique charter.

The cuisine aboard Ghost is designed with adventure in mind. Sea-to-table is one of Caitie and Stephen's specialties and they love to get their guests in on the action! She delights in creating flavorful, delicious meals that are not only fresh, healthy and beautiful, but catered perfectly to your dietary preferences.